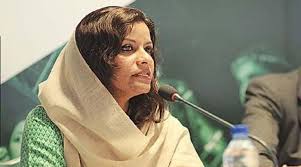 Islamabad: Secretary and Deputy Secretary Information Pakistan People's Party Dr. Nafisa Shah and Palwasha Khan respectively have said that the Pakistan Tehrik-e-Insaf has started conflict with the judiciary after quarrelling with the parliament, Sindh government, opposition and the Election Commission of Pakistan.
Both the PPP leaders demanded formation of a JIT on the issue of interference of President and Prime Minister on the matter of resignation of Attorney General. They made this demand in a press conference at the media office PPP Islamabad.
They said that according to the former Attorney General he resigned on the demand of Pakistan Bar Council. They said that Law Minister Farogh Nasim and Shahzad Akbar should have also resigned. They said that on one hand there is an ordinance factory installed in
President House and the Parliament has been made redundant and on the other factories are being closed down all around the country. They asked Shahbaz Sharif to return back to the country and said that Chiarman Bilawal Bhutto Zardari is playing the role of opposition leader and visiting different parts of the country.
They said that the Chairman FBR has gone missing and the economy is nose diving on daily basis. They demanded to bring the issue of rules for social media in the parliament. They said that when people will come out on the streets against PTI government no restriction would be able to stop them from protesting. They said that one minister after the other was sent to Sindh to conspire against PPP provincial government but they all failed. PPP is with the students of Gomal University who are being treated by Modi tactics, Nafisa Shah and Palwasha Khan said.