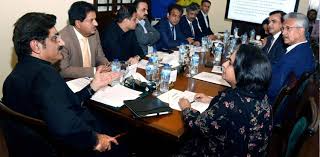 Karachi: Chief Minister Sindh Syed Murad Ali Shah has asked Civil Aviation Authority (CAA) officials for strict screening of the passengers at the Karachi airport.
This he said while meeting with the CAA officials, who called on him at the CM House.
The CAA officials apprised the provincial chief executive that isolation rooms have been established at the airport, while the screening process is also underway at the Karachi airport.
On the occasion, CM Sindh sought details about flights landing at the Karachi airport from China and Iran. He directed the staff of the CAA for stern screening of the passengers landing at the Karachi airport.
"Don't scare or panic, your government will take care of you," the CM Sindh also said in a public message to the people, earlier in the day. He was chairing an emergency meeting after detection of two coronavirus cases in the country including one in Karachi.
It is to be mentioned here that the first case of COVID-19 emerged in Karachi, a citizen who flew back from Iran along with two of his friends.
The second patient, identified in Islamabad, was shifted to quarantine in the capital's Pakistan Institute of Medical Sciences (PIMS).
The departments of Civil Aviation Authorities (CAA) and the Department of Health have been put on high alert after the virus was first diagnosed and confirmed.