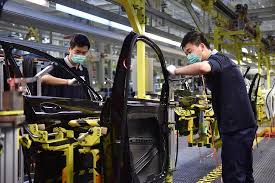 Beijing: As China's battle with the novel coronavirus continues, Beijing is also strengthening preventive and control measures as the capital is seeing workers return to work.
On Thursday, Beijing reported 12 suspected cases and two deaths of novel coronavirus (COVID-19) infection, with no new confirmed cases, according to the municipal health commission, China Economic Net reported.
The capital has reported 410 total confirmed cases of the disease, with 257 patients cured and discharged from hospital and seven deaths. It has 38 suspected cases of the disease.
The National Health Commission said Friday it received reports of 327 new confirmed cases of novel coronavirus infection and 44 deaths on Thursday from 31 provincial-level regions and the Xinjiang Production and Construction Corps, bringing the total confirmed cases on the mainland to 78,824, with 2,788 deaths.
As the whole nation is mobilized to secure a victory in the crucial battle of Wuhan and Hubei Province against COVID-19, the top leadership has stressed all-out efforts for the epidemic prevention and control work in Beijing, one of the major destinations for millions of migrant workers from rural areas.
After a prolonged Spring Festival holiday, the return of migrant workers to big cities increases the risk of new infections.
At a meeting to advance the work on coordinating the prevention and control of COVID-19 and economic and social development on Sunday, President Xi Jinping demanded both imported cases and spread within the city should be prevented in Beijing. Efforts were also required to carry out health monitoring and personnel management, and strengthen joint prevention and control in the Beijing-Tianjin-Hebei region.
"Multiple factors such as the flow of returning people and the resumption of work and production have increased the uncertainty of the trend of the epidemic," said Huang Chun, Party chief and deputy director of the Beijing Center for Disease Control and Prevention.
"Beijing faces a double risk of importing and spreading COVID-19 cases. No slackness is allowed," he warned.
On Wednesday, Beijing reported 10 new COVID-19 cases, all close contacts of a confirmed case one day before.
Having putting in place a variety of strict measures such as the postponing of the opening of the new school semester, the disinfection of public places and transportations, and the strict management of residential communities, the capital has strengthened efforts to control the spread of COVID-19.
The city is sending a new batch of 2,040 officials to communities and villages to beef up prevention work after about 190,000 officials and clerks have been mobilized to join the epidemic control in different districts of the metropolis.
The city has inspected COVID-19 prevention work of more than 3,000 companies and will inspect more companies, according to the municipal emergency management authorities.
Restriction measures have been adopted to ensure the number of visitors to parks will not exceed 40 percent of the same period last year. Disinfection work is also strengthened in such places.
"See, traffic congestion is starting again," said a middle-aged ride-hailing driver surnamed Xing, wearing a mask, waiting for a traffic light near the second ring road in the heart of the city, "We can't afford to just sit around and wait at home. We have to get back on the road."
"People are still trying to avoid subways now. Most people choose to drive by themselves or call a taxi," he said.
To fight the outbreak, the country announced Monday the decision to postpone the annual sessions of the national legislative and political advisory bodies scheduled to be held in Beijing in early March.
The massive passenger flow poses a great challenge to Beijing's epidemic prevention and control work and tests the wits and capabilities of the government and the people.
China Railway Beijing Group installed nearly 900 thermo-detectors at railway stations back in January. It has been disinfecting public places and promoting knowledge of epidemic prevention and control by various means.
Beijing subway and bus operators have also taken measures to protect passengers.
At 4 a.m., Zhang Bin starts his day at the bus terminal near Beijing South Railway Station. Zhang's work is to disinfect the buses. "Handles, coin boxes, card readers and doors are key areas of disinfection," he said.
The bus drivers are also required to take a temperature check beforehand and they have the right to turn away passengers who insist on not wearing masks.
Beijing Public Transport, which operates the city's bus fleets, has opened special transit lines near railway stations and increased the departure frequency of buses with high ridership to avoid crowding.
Now Beijing has been conducting daily disinfection and body temperature checks of passengers in 23 subway lines covering 405 stations.
In an automobile production base of Beijing Benz Automotive Co., Ltd. located in the south part of the city, workers are busy working on the assembly lines with masks on, with people disinfecting the whole workshop constantly. In addition, each worker has to verify their identity and get their body temperature checked before entering the workshop.
Things are getting back on track in the factory, said a worker surnamed Liu who has been working there since its establishment. "But the priority now is to guarantee people's health and safety," Liu said.
According to the State-Owned Assets Supervision and Administration Commission of Beijing, 43 enterprises supervised by the commission have resumed work, and more than 90 percent of the city's supermarkets, malls, and logistics companies are operating.
Construction projects in the city, including the construction works for the Beijing 2022 Winter Olympics, have gradually resumed. At the construction site for the theme park Universal Beijing Resort at Beijing's sub-center, more than 5,000 workers had returned to work as of last week.
Li Yingjun, 43, returned to a construction site at the north third ring road a few days ago via a charter bus, together with 29 of his fellow workers from their hometown in southwest China's Sichuan Province.
The government arranged the charter bus for them in order to reduce the risk of being infected on their journey back, Li said, adding that they are currently under quarantine in isolated dorms. "These measures are necessary. We understand that it is for our own good," Li said.