Govt offering financial support in different sectors: PM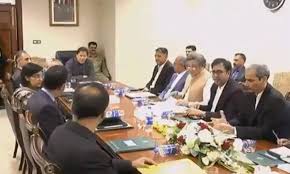 Islamabad: Prime Minister Imran Khan said Friday the government is offering subsidy and financial support in different sectors to provide relief to the weaker segments of the society.
He was chairing a review meeting of the impact of the government's subsidy in different sectors for provision of relief to low-income and weaker segments of the society in Islamabad today (Friday).
The Prime Minister said apart from provision of subsidy it should be ensured that the amount proves beneficial for the concerned people and the specific purpose.
Talking about energy and other sectors and the government's efforts to reduce burden on people, he said the present government will not allow shifting of the burden of corruption, administrative malpractices and negligence on people.
Expressing satisfaction over success of staff level agreement with IMF, he said it is an achievement of the government to save people from mini-budget during the current fiscal year.
He said the agreement also reflects Fund's satisfaction on government's economic policies and their direction.
The Prime Minister directed the Minister for power to pay special attention on busting big power thieves.
He said action should also be taken against cartels and the elements causing hoarding so that people could be saved from theft, system flaws and exploitation.