Only 26% women part of labour force in Pakistan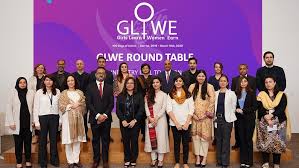 Islamabad: A country with women constituting 49 percent of total population, only 26 percent are part of the labour force. With financial inclusion of women and girls, Pakistan could boostits   GDP   by   33   percent.   
These   were   the   remarks   of   speakers   at   a   youth  dialogue   on'Generation Equality: Realizing Women's Rights for an Equal Future' jointly organized by UNWomen  Pakistan,   the   United Nations entity   for   Gender   Equality  and  the   empowerment   ofWomen, and National University of Sciences and Technology (NUST) here on Friday.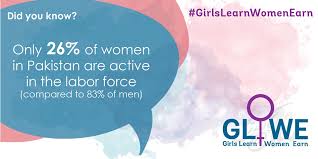 The   event   was   held   to   commemorate   the   25th  anniversary  of   the   Beijing   Declaration   andPlatform for Action which was ratified in 1995 and endorsed by 189 Governments at the 4thWorld   Conference   on   Women   held   in   Beijing,   China.  
 However,   real   change   has   beenagonizingly slow for majority of women and girls in the world and not a single country can claimto have achieved gender equality even in 2020. To review the progress made to date and identify challenges still to be addressed, UN Womenis bringing together the next generations of women's rights activists with the gender equality advocates and visionaries who were instrumental in creating the Beijing Platform for Action.Collectively, these change makers of all ages and genders can tackle the unfinished business of   empowering   women   through   a   new,   groundbreaking,   multigenerational   campaign 'Generational Equality'. 
The event, organized under the Generation Equality campaign, started with opening remarksby Dr. Nassar Ikram, Pro-Rector Research, Innovation and Commercialization (RIC), NUST.He   gave   an   overview   of   NUST,   highlighting   its   innovative   initiatives   to   draw   more   youngwomen into a technical field traditionally dominated by men, to provide them with a conduciveenvironment and to help them succeed. "Education is the most important mean to empowerwomen and girls and enable them to take forward the gender equality agenda," he said. 
His   remarks   were  followed   by   a   panel   discussion   which   included   Mr.   Mohammad   Naciri,Regional Director Asia and the Pacific, UN Women, who is on his first ever trip to Pakistan;Ms.   Uzma   Kardar,  Chairperson   Standing  Committee   on   Gender   Mainstreaming,   ProvincialAssembly  Punjab; Ms. Maya  Zaman, successful Transgender Entrepreneur, and Ms. AqsaAjmal, alumna of NUST, Lexus Design Awardee. The panel was moderated by NUST facultymember Dr. Seemab Latif. 
The speakers focused on the Beijing Declaration and importance of equal pay, equal sharingof unpaid care and domestic work, an end to sexual harassment and violence against womenand girls, health care services  that respond to their needs, and their equal participation inpolitical life and in decision making in all areas of life. Mr. Mohammad Naciri said, "It was very unfortunate that we have been fighting for rights ofwomen since long. As the world will mark 25 years of Beijing Platform for Action, it's time topush hard for advancing gender equality. Youth demands equal rights and equal opportunitiesfor all, and a world free from violence." "Patriarchy is not only in the minds of men but also women. It's essentially a social norm. So,we need to disassociate patriarchy from men. It is important to change the mindset, speak withnew generations without discrimination of men and women so that we could effectively dealwith preconceived notions built on gender discrimination."
He appreciated that Pakistan wasone of   the   countries   to   have recognized transgender persons as  a  third  gender   and   waslegislating to protect their rights. Mr. Mohammad stressed the need for gender responsive budgeting, planning and policies toensure there were health, education and civic services that respond to the needs of all women,men and transgender persons. 
Ms. Uzma Kardar said, "Pakistan is committed to Sustainable Development Goals. With jointefforts of all stakeholders, awareness is increasing, and legislative process is going on in theright direction." "To   make   sure  we leave no   one   behind  while moving  towards   SDGs,   we   must   sensitizecommunities and change their mindsets. Youth can do this!" "Gender equality should comenaturally   to   youth.
 
When   women   get   more   medals   in   universities,   why   they   get   lessopportunities in practical lives?" She lamented while adding that she was confident that thenew generation will witness gender equality in their lifetime. Maya Zaman said economic empowerment of transgender persons was pivotal to end violenceagainst them. Aqsa said  she  opted for industrial design field  as   she wanted to fight maledominance in domain. Many  students,  faculty   members   as  well   as   women   and   men  across  different  professionsparticipated in the event. 
Various questions raised by the audience were answered by thepanel members.
The   event   ended   with   the   closing   remarks   of   Ms.   Aisha   Mukhtar,   Deputy   CountryRepresentative UN Women Pakistan. "Inequality has become a norm. Everyone does not haveaccess   to   equal   opportunities   and   rights.   Women   and   transgender   persons   are   morevulnerable to violence and exploitation. This needs to change. We need to challenge gendernorms. And we need to work together to accelerate gender equality actions," she remarked.