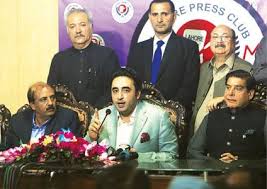 Lahore: Chairman Pakistan People's Party Bilawal Bhutto Zardari has said that Lahore Press Club has a deep connection with freedom of expression and democracy in Pakistan. He said this in a meet the press held at Lahore Press Club.
He said that the sacrifices of journalist community have played a big role in the democracy that is present in Pakistan today. When Begum Nusrat Bhutto and Shaheed Mohtarma Benazir Bhutto were combating the barbaric dictatorship of Zia, the hardworking labourers and pro-democracy journalists were standing with them.
Talking of the current situation, he said that political revenge is at its extreme and the narrative of this government was broken since the first day and now is standing nowhere. No one in Pakistan is ready to accept that Mian Nawaz Sharif is in jail or London because of corruption. No one believes that anyone is imprisoned right now or has cases against them due to corruption. Everyone knows that the cases are being made and the suffocation and censorship that you are feeling in your own institution, is the same that they want to create in the National Assembly, he said while talking to media men.
People who have been political workers since the time of Shaheed Mohtarma Benazir Bhutto and have struggled since are being imprisoned right now. Raja Parvaiz Ashraf is sitting beside me right now, and the amount of character assassination that he has had to face in PPP's time, is in front of you. So, these decisions are not according to the law but due to some other reasons. We have been winning cases in courts when the Prime Minister was our opponent; we have won these cases during former Chief Justice Iftikhar Chaudhry's time and of those following him. Even today, we are waiting and looking forward to justice in cases such as that of Zulfikar Ali Bhutto's judicial murder.
"I request all of you to support me, this is not a day-long journey, it will be a long struggle and sometimes, we will take two step forwards but one back, but we have to make this country the free and democratic nation that Zulfikar Ali Bhutto spoke about, that All power must pass to the people or everything will perish".
Chairman PPP said that PPP in its tenures in government gave all rights to women because we believe that without women we cannot prosper. We all have to make this country an independent and sovereign democracy.
Responding to a question he said that in this government people from IMF choose economic decision for the people of this government. This government had no plan and so they have unrealistic time frame for tax collection. Our tax system i8s corrupt and needs structural reforms. We should entice people to pay taxes. We have to bring reforms in our system. They should go back and do a deal with IMF in the interest of people.