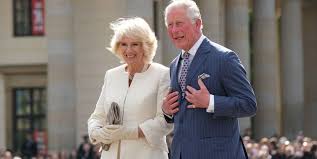 London: Prince Charles and Duchess Camilla just released a comment saying that Camilla doesn't want to use the Queen title when Charles is King.
She already made this announcement back in 2005, so why it's coming up again is unclear.
Amid the royal drama of Queen Elizabeth feeling "emotionally and physically" exhausted by Prince Harry and Meghan Markle quitting the royal family, Prince Andrew stepping down from royal duties because of his scandalous relationship with Jeffrey Epstein, and Harry and Meghan maybe taking a dig at Princess Beatrice and Princess Eugenie in their new statement, Duchess Camilla would like to make one thing very clear: No, she doesn't want to take on the title of Queen when her husband Prince Charles is on the throne.
Why Clarence House (aka Charles and Camilla's official London residence) thought that now would be a good time to point out this information is truly beyond me, but earlier this week reps for Charles and Camilla told Daily Star, "The intention is for The Duchess to be known as Princess Consort when The Prince accedes to the throne." Traditionally the spouse of the King can be known as "Queen Consort," but even upon Charles and Camilla's wedding back in 2005, the Duchess let it be known that she didn't ever intend to be called Queen.
All that said, it doesn't look like Queen Elizabeth intends to retire for at least two more years, so Camilla won't have to worry about her title change for a while. So for now, we can all resume obsessing over Princess Beatrice's wedding plans and what it means that Harry and Meghan aren't bringing baby Archie with them on their upcoming trip to England.
On Saturday, the Keeping Up with the Kardashians star shared a series of photos and clips from her vacation to the Bahamas. Jenner, 22, rocked a black string bikini in the videos, as she partied with her friends — including BFF Stassie Karanikolaou — and posed for the camera.
In the Instagram Story clips, the group could be seen taking shots and snacking on fruit, mini pancakes and Frito chips. "Saturday's are for the girls????," Jenner captioned three photos of herself and Karanikolaou laying by the pool.
Jenner's daughter Stormi, 2, also came along on the beach getaway. On Friday, the Kylie Cosmetics mogul shared a sweet photo of herself and her daughter walking on the sand, writing, "you and me.."
The mom of one also posted snapshots of her beach lodgings on Friday, sharing a photo of a large pool surrounded by palm trees.