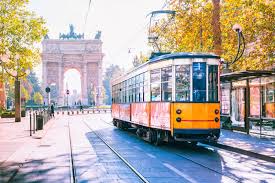 Milan: Milan is more than just the Fashion and Design weeks! It is a swirling metropolitan city full of food, architecture, history and art.
The "Northen Capital" is one of the most famous cities in Italy; this says a lot, considering Italy is home to hundreds of gorgeous and unique spots. Here is a handful of some of the other things Milan is known for.
Campari: Campari is now world-renowned, but it originally began in Milan in the 19th century. Owned by Gruppo Campari, the company began in 1960 with the birth of the famous crimson red liqueur. It is usually used as an aperitif, taken before dinner, and is composed of a unique blend of herbs and flavours. It can be bitter to a new pallette and is over twice as strong as its sister drink, Aperol (known in the famous sunset-orange Spritz of summertime Italy).
Today one can partake in the aperitivo tradition by taking a visit to the Campari Gallery, located as Viale A. Gramsci 161. This veritable "museum of Campari" offers tours every week and hosts a variety of aperitivo-themed art and displays.
Fashion and the Galleria Vittorio Emanule II: Milan is, of course, known for high fashion. The city is home to dozens of high-end designer stores and exclusive shopping, and also for locally owned boutiques that can be found throughout the city. One of the must-see locales for those interested in fashion is the
Galleria Vittorio Emanuele II. It is a gorgeous architectural landmark composed of a four-story double arcade with glass ceilings and imposing design. It is Italy's oldest active shopping mall, having been completed in 1877. Some of the things found inside include cafes, restaurants, haute couture (such as Versace and Armani), high-end jewelry and art. Prada even owns an art gallery in the Galleria based on photography in Milan, called the Osservatorio.
The Navigli: The Navigili area is series of canals that run through parts of Milan- that's right, Venice isn't the only city famed for its canals! These canals were once an essential part of life in Milan, used to transport goods -such as the marble used to build the Duomo- from different places to the heart of Milan. The biggest one is the aptly-named Naviglio Grande, from which the other canals were built out from. Most of them have disappeared over the years but there are still a handful that still exist today. The Navigli district is well-known for art galleries and long strolls along the water are a good way to relax and unwind from a long day in the city. In the summer, one can even take a tour via boat!
Teatro alla Scala: The Teatro alla Scala is one of the grandest opera and ballet houses in the world. Many famous performers come from all over the world to perform here on a regular basis. The theatre gets its name from the church that it was built over in 1776. For hundreds of years, "La Scala " (as it is commonly known) has been a meeting place for lovers of art and music.
It remains a central part of the community of Milan. La Scala has evolved with the times, yet always kept that same sense of classical dignity. The building was badly damaged during World War II and has undergone several major renovations since – the 2002 renovations cost an estimated €61 million. La Scala today retains much of its characteristic old-world charm, an example of the living history Milan is so well known for.
Although performances are suspended until April 3 due to the Coronavirus outbreak, it is never a bad time to add this to your future travel plans!
The Last Supper: Not everyone realizes that the famous Last Supper painting by Leonardo DaVinci is actually located in central Milan. It is not at a museum, but rather resides in Santa Maria Delle Grazie, a Domincan convent and UNESCO World Heritage location. Italy is no stranger to incredible and world-famous art, but this painting has to be one of the most well-known in the world. Whether a DaVinci fan or a bucket-lister, a stop here is definitely worth it.
The church itself is still active and one can attend a mass inside or admire the historical and architectural significance of the site. A myriad of skip-the-line tickets and tours are available online.