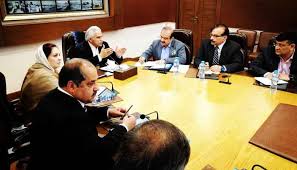 Islamabad: Special Assistant to the Prime Minister on Health Dr Zafar Mirza said on Friday that the sixth case of the coronavirus in Pakistan had been confirmed.
Taking to Twitter, Dr Mirza said that the patient "is in clinically stable condition in Sindh and is being well taken care of."
Earlier, Chief Minister Syed Murad Ali Shah was told during a meeting at the CM House on that another person had contracted the novel coronavirus from Karachi. The Sindh health department confirmed the third coronavirus case to emerge from the province. The 69-year-old patient has a history of traveling to Iran and had returned on 25th February, 2020.
He was being monitored by the health department and was tested today when the symptoms showed up.
The chief minister directed the provincial government to have all those who came into contact with the person tested for the virus. The Sindh government has been grappling with the coronavirus problem as two cases of the novel virus were confirmed in Pakistan last week, one in Karachi.
As a precautionary measure, the Sindh government had directed all schools, colleges, universities, tuition centres and other educational institutions to remain closed till March 13. The provincial government suspended several schools' registrations for remaining open despite the Sindh government's orders.
Dr Zafar Mirza Thursday urged that the nation not to pay heed to any rumour over the coronavirus as a vested quarter is trying to mislead people with fake information. Zafar Mirza said the government is well-prepared to prevent the deadly coronavirus which badly spread other countries, adding, government has taken adequate measures to ensure that the disease does not spread further.
Dr Zafar said the Health Ministry has taken all-out preparations to provide necessary treatment if anyone in the country is found infected with coronavirus.
Talking about schools, Special Assistant said the coronavirus situation in the country is not serious enough that schools need to be closed. He said the National Ministry of Health had not suggested that schools be shut down. However, provinces are free to make their own decisions in this regard.
He urged people not to panic and remain hopeful. The public shouldn't chase after masks but wash their hands frequently and maintain good hygiene, he advised. Every cold or flu is not the coronavirus, said the PM's aide. However, those with a cold or flu should avoid visiting crowded places.
People returning from China and Iran should stay in isolation for 14 days, he said. There is no restriction on Pakistanis outside Wuhan city returning to the country.
Meanwhile, Saudi Arabia on Thursday emptied Islam's holiest site for sterilisation over fears of the new coronavirus, an unprecedented move after the kingdom suspended the year-round Umrah pilgrimage.