'Mismanagement reason for wheat crisis'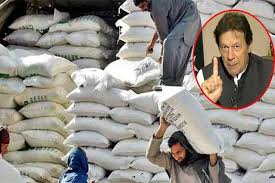 Islamabad: The investigation report inquiring into the recent wheat crisis in Pakistan has determined that there was no shortage of wheat in the country instead the wheat flour crisis was "artificial".
The report, forwarded to the Prime Minister's Office, further concluded "mismanagement" as the primary reason for the wheat crisis. The report also outlined that currently the Center has 2.1 million metric tonnes of wheat.
Besides, the government has laid aside the decision to allow the private sector to import 300,000 tonnes of wheat, while taking into account the satisfactory amount of reserves ahead of the harvesting season.
On Wednesday, National Food Security and Research Secretary Mohammad Hashim Popal¬zai informed the Senate Standing Committee on National Food Security that Pakistan was in no need of importing wheat at the time since "surplus stock of 2.35 million tonnes of wheat is available and will be sufficient till harvesting of the wheat crop was completed in Sindh and Punjab."
In January this year, the Economic Coordination Committee (ECC) of the cabinet had approved the import of 300,000 tonnes of wheat by the end of March to reduce its price and meet the domestic requirements. For this purpose, the regulatory duty had been withdrawn to allow the private sector to import the approved quantity of wheat.
The ECC had also directed the Punjab government and the Pakistan Agricultural Storage and Services Corporation (Passco) to release wheat stocks in order to mitigate the crisis.
Earlier, importers had stated that a 100kg bag of imported wheat would cost Rs4,500 as 300,000 tonnes of wheat would cost Rs13 billion. "It is not possible to buy wheat in cheap price without subsidy," they had said.
Pakistan exported more than 600,000 metric tonnes of wheat from late 2018 to June 2019, its statistics bureau says.
Although the government banned exports in July last year, 48,000 metric tonnes was still sent overseas until October 2019.
Pakistan is a mostly agricultural country that normally grows enough to meet the needs of its population.