PPP says govt encouraging coronavirus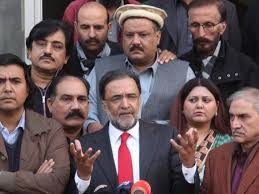 Islamabad: President PPP Sindh Nisar Ahmed Khuhro and Senator Taj Haider member PPP core committee have expressed dismay on the fact that after encouraging the spread of Corona Virus through callousness at the entry points of Taftan and international airports as also by limiting the distribution of BISP funds to only 2 private banks and opening the markets, the Federal Government is now trying to accelerate the spread of virus by opening up public transport.
As the daily increasing figures of corona patients indicate, the poor in the country are being sacrificed in the name of the benefiting the poor. The ground situation is that it is the rich who are the real beneficiaries of the actions taken by the Federal Government.
The much trumpeted overdue distribution of BISP funds are mostly for the rural poor. In spite of continuous reminders of the provincial Government aerial spray to eliminate locust swarms in the rural areas have been ignored by the Federal Government. It is the daily wage earners of urban areas who still await any Federal assistance and who are being helped by the Sindh Government and the NGOs.
The two PPP leaders said that we are receiving plane loads of corona related items from China, but continue to look down upon the successful strategy they adopted. Vietnam is another inspiring story which teaches us about the value they attach to saving human lives.
It is sad that in Pakistan the urge to make profits has overpowered our sense of duty towards saving human lives. Ostentatious life styles and the shopping craze has made our educated parents risking the lives of their children by dragging them to overcrowded markets. Hollow emotions do not guarantee the survival of a nation. Our healthcare system has already crashed, because we are not listening to our eminent scientists and medical experts.
Notwithstanding the misguided actions of the Federal Government the two PPP leaders have warned that economy cannot survive without healthcare. They appealed to the general public to pay head to what the experts are saying. We do not loose anything by observing a simple Eid in respect of those who have lost their dear ones because of the spread of corona.