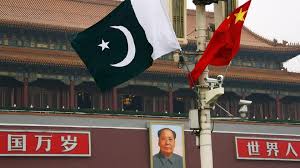 Islamabad: Pakistan and China have successfully maintained their friendly ties since the establishment of their diplomatic relations. Pak-China friendship is prominent as one of the most unique relations in the history of international relations.
As they celebrated the 69th anniversary of their diplomatic ties in 2020, both states confronted a completely new regional and international scenario with China emerging geo-economically and geo-politically as a major regional power, China Economic Net reported.
Pakistan was the first Islamic country, second common wealth and third non-communist country to recognize the People's Republic of China (PRC) in 4th January 1950. On May 21, 1951 the Pakistani government established formal diplomatic relations with PRC. Pakistan not only itself recognized the Chinese government but also made efforts to influence others, especially Islamic countries to recognize the government of PRC. In 1971, Pakistan supported China to regain her lawful seat in the United Nations.
No relationship between two sovereign states is as unique and durable as between China and Pakistan. We Pakistani consider China as a true, time tested and reliable friend that has always come through for Pakistan. Over 69 years, our relationship has grown from strength to strength. Pakistan and China have developed an exemplary state-to-state relationship based on complete trust since the start of diplomatic ties. Strong relations with China have become a corner stone of Pakistan Foreign policy. The 69th anniversary of our diplomatic relations this year is helping in a new era of bilateral ties.
China has been supporting Pakistan economically in the past many years. Chinese investment in Pakistan has increased greatly in key sectors including port development, roads, railway, hydro and thermal power energy and IT. Some mega projects have made remarkable progress, including the Gwadar port, KKH and Thar Coal project. Earlier the machine tool factory of Karachi and Heavy Mechanical complex at Taxila and lots of other projects were also established with the help of China.
Both countries have common position on major international and regional issues. China and Pakistan traditional friendship has remained and continued to be flourishing in the new era with an upgraded character to a strategic and helpful partnership at global level instead of merely bilateral level. China has played a tremendously significant role in building regional stability in South Asia.
Another unique feature in Pak-China relationship is the involvement of common people of both countries along with the leadership in strengthening their mutual ties. As a point of fact, both Pakistan and China have a great shared history of common love, respect and cooperation. Both countries are also expending in culture linkages through educational sector, think tanks, civil society and media.