Pakistan International Airlines passenger plane crashes in Karachi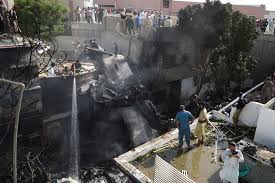 A Pakistan International Airlines Airbus A320 passenger jet flying from Lahore has crashed in a densely populated residential area of Karachi.
Flight PK8303, carrying 91 passengers and eight crew, crashed on approach to the busy Jinnah International Airport.
The provincial health minister said at least 11 people had died, but a far higher toll is feared. Reports say at least one passenger survived the crash.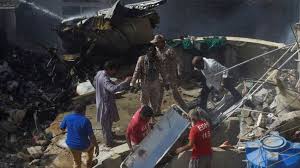 Thick black smoke rose from a scene of devastation in the Model Colony area."Almost four houses were completely collapsed, there was so much fire and smoke," he said. "They are almost my neighbours, I can't tell you what a horrible thing it was."
Dr Kanwal Nazim told Newswire she heard people screaming and saw clouds of black smoke rising from the three houses adjoining a mosque.
The chief minister of Sindh, the province where the plane crashed, has declared an emergency in all of Karachi's hospital. The cause of the crash is yet to be confirmed. PIA chief executive Air Vice Marshal Arshad Malik said the pilot had told traffic control that the plane was experiencing "technical difficulties".
In it the pilot says they have "lost two engines". Several seconds later he calls "Mayday, Mayday, Mayday" and there is no further communication.
Bank of Punjab president Zafar Masud was among the passengers and had survived the crash, a Sindh provincial government spokesman said.
Pakistan's Prime Minister Imran Khan said he was "shocked and saddened" by the crash, promising an immediate investigation.
Emergency services and the army are helping the rescue effort at the scene
The crash comes just days after the country began allowing commercial flights to resume after a coronavirus lockdown.
Pakistanis across the country are preparing to celebrate the end of Ramadan, with many travelling back to their homes in cities and villages.