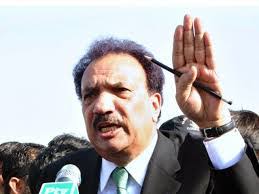 Islamabad: PPP senior leader, Chairman Senate Standing Committee on Interior and former Interior Minister Senator A. Rehman Malik on Tuesday through his lawyers served another defamation notice to US Citizen Cynthia D. Ritchie over allegation during her media talk outside Islamabad High Court on 22. 06. 2020.
In her media talk she alleged "horrific stories against Benazir Bhutto were told to me by the then Inter Minister, Rehman Malik."
As a matter of fact and the legal notice states that Senator A. Rehman Malik has never any such conversation with her and he cannot even think about such false allegation.
He has strongly rejected all allegations against him and has termed those malice, highly derogatory and defamatory and pack of lies to damage his national and international reputation which he has earned after tireless struggle for decades as investigator, politician, parliamentarian, former Interior Minister and author of three books and hundreds of articles published in national and international media.
Senator A. Rehman Malik considers it bellow his dignity to respond to the baseless and malicious allegations leveled against him by a foreigner lady and has decided to take her to the court with her pack of lies to face the law.
The legal notice is reproduced as under:
Subject: LEGAL NOTICE
Dear Madam
I have been instructed by Senator Mr. A Rehman Malik and instructed to serve you with the following legal notice:
(a) That my client is renowned politician. He is thorough gentleman and a respectable citizen of Pakistan. He enjoys international fame and has been working in national interest at many top ssignments. He also served as Interior Minister of Pakistan. Presently, he is chairman of Senate Standing Committee for Interior:
(b) He has been an investigator of international repute. He is the recipient of two highest civil awards (Sitara-e-Shujaat Galantary Nishan-e-Imtiaz) from the State of Pakistan. He has great respect for women and that is why he shall not use any derogatory counter remarks against you. However, my client A Rehman Malik in his defense had issued rebuttal refuting your false allegation
That it was noticed by my client that you emerged on the social media scene and began a smearing campaign against late Ms Benazir Bhutto. Ex-Prime Minister of Pakistan as well as Pakistan
Peoples Party while issuing and posting some untrue. Concocted, objectionable, derogatory, immoral, indecent and defamatory contents and remarks on WhatsApp. YouTube and Twitter etc. one of your tweet was as follow "This echos stories of a BB used to do when her husband cheated. She'd licne the guards rape the Women".
That my client being a senior worker member of Pakistan Peoples Party took serious notice of our aforesaid nefarious and illegal activities in his capacity as Chairman of the Standing Committee on Interior and on the request of PPP workers consequently called a report from Ministry of Interior while also directing FIA, PTA vide letters dated 29 May 2020 and 30th May 2020 (Copies attached) and all other stake holders to initiate an inquiry into the matter and take action according to the prevailing laws of the land. This news was also published in the Print and Electronic Media. Pakistan Peoples Party also filed a complaint in this regard with FIA etc which is also being processed accordingly.
That as soon as you got to know of the aforesaid action by my client you initiated his character assassination by leveling bogus and disparaging allegations as to rape thus you was served with multiple legal notices followed by a criminal proceedings in which court has summoned you as accused hence you became more inimical to my client thus in order to further defame him, you while addressing the media at Islamabad high court on 22.06.2020 while referring your tweet in which you earlier leveled derogatory. False and defamatory allegations against late Benazir Bhutto. Levelled false allegation against my client that "In my main Tweet, which was taken out of context i did not mean to be disrespectful to anyone alive, living and especially a deceased female that broke the glass ceiling here in Pakistan (talking about benuzir, but this video that prompted my weer where i sav Malik Riaz's Daughter, ordering the abuse of another women, that instanth reminded me of something which i have gone through here in Pakistan and such a video prompted me to speak out and is prompted me to say that these are the stories that i have been told the people in the late Benazir Bhuttos own party, and these horrific stories against Benazir Bhutto were told to me by the then Inter Minister, Rehman Malik and I want to be very clear about that".
That my client has never any such conversation with you. He cannot even think about such false allegation. You have levelled above allegation ageist my client knowing it to be false and just to harm his reputation.
That due to leveling, publication and circulation of above said false, frivolous and baseless allegation, the reputation of my client has adversely suffered both at national and international level. He has a right to redeem his position.
Therefore, my client is constrained to demand from you as token damages, an amount of Rupees Five Hundred Billion in addition to prompt withdrawal of the above said allegation in the same manner in which it was leveled within fifteen days of this legal notice besides an unqualified apology from you in this regard.
That in case of non-adherence to the instant legal notice, my client Will resort to civil and criminal proceedings against you through courts of competent jurisdiction and in that eventuality you would
be solely responsible for all costs and consequences including damages to the tune of Rupees live Hundred Billion which my client may demand by way of damages from the relevant forum of law.