Islamabad: The Deputy Secretary Information Pakistan Peoples Party Parliamentarians Chaudhary Munawar Anjum in a reaction to a statement by federal minister Ali Zaidi regarding Shaheed Benazir Bhutto's will has said that Ali Zaidi is a "totally ignorant" person who has no political acumen.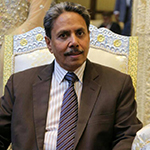 Chaudhary Anjum said that Shaheed Benazir Bhutto's will is as verified as her ideology which is a beacon of hope for democracy-loving people. Chairman Bilawal Bhutto Zardari's politics is the continuation of Shaheed Mohtarma Benazir Bhutto's politics and this is the reason that all those people who conspire against democracy are frightened of his politics.
Imran Khan's politics is based upon the support of mafias, collection of donations and gambling. He said that Ali Zaidi is also a suspicious character. Chaudhary Anjum advised Ali Zaidi to read Reham Khan's book to analyse Imran Khan's shady character and personality. The book is available in the market for Ali Zaidi's information.