Islamabad: Leaders of Pakistan Peoples Party have strongly condemned the most horrendous incident at the Motorway where a lady was raped in front of her children and demanded the strictest punishment for the perpetrators of the heinous crime under the law.
This was demanded in a press conference at the PPP Media office Islamabad on Friday evening by the Secretary Information PPP Dr. Nafisa Shah, Deputy Secretary Information PPP Palwasha Khan and PPP parliamentary leader in Punjab assembly Hassan Murtaza. Nazir Hussain Dhoki, vice president PPP Rawalpindi Naeem Awan, Noor Ilahi and Hafiz Naeem were also present on the occasion.
The PPP leaders said that the CCPO Lahore's statement regarding the incident is highly condemnable and it seems that he is the facilitator of the criminals. They demanded to bring him to the book as well. Imran Khan is acting like a viceroy and Usman Buzdar as his agent. Every four to six months the IG Punjab is changed.
They said that Imran Khan issued no statement for the victim and that is why he is called "Taliban Khan". The PPP leaders appealed to the Chief Justice of Pakistan to take notice of this incident.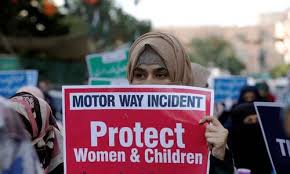 Dr, Nafisa Shah said that the situation in the new Pakistan is such that half of the country is inundated in flood water and the other half of the country is unsafe for women and children. Federal ministers and special assistants and advisors are in a mission to save the CCPO who is blaming the victim instead of protecting them. She said that facilitation of the similar kind was also done in the Sahiwal tragedy where the criminals and killers went scot free.
Palwasha Khan said that there seems to be a mutiny by the police in Punjab against Imran Khan's selected government. The situation in the country is worst in the last 72 years. She said that the opposition will make a strategy in the APC that will send the government packing.
Hasan Murtaza said that the PPP has submitted a call attention notice about this incident. He said that similar incidents have taken place in Lahore, Gujranwala, Hafizabad and Multan. He said that it is most despicable that the CCPO Lahore is blaming the victim of her rape. It is inhuman behavior of the CCPO who seems to be acting as the facilitator of the rapists. He said that efforts are being made to appoint this unscrupulous CCPO Lahore as new IG Punjab.