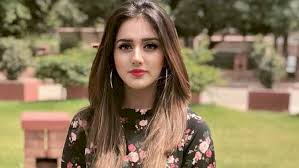 Islamabad: Jannat Mirza has become the first Pakistani TikToker to cross 10 million followers mark on video-sharing app TikTok.
The TikToker recently made her debut in the mainstream entertainment industry when she appeared in a music video.
The video of the Punjabi song titled "Shayar" received over 10 million views on YouTube.
Fans are congratulating the TikTok sensation for becoming the most followed TikTok star in Pakistan.
Meanwhile, Jannat has also amassed over 1 million followers on Instagram where she often shares her TikTok videos.
Considering her huge fan following, she has been making waves in the mainstream entertainment industry. In July, she was featured in the music video for the song Shayar, by Sarmad Qadeer.
TikTok is a widely popular social media app with millions of users across the world. It was first launched in China in 2016. It has quickly gained popularity among Pakistani users, who have been using the app to make short videos and clips. It has become a platform of creative expression for them.
Ironically, the Pakistan Telecommunication Authority, has issued on Friday instructions to block the video-sharing app in Pakistan.
The authority said that they have taken the decision after receiving complaints 'against immoral/indecent content' on the app.
PTA said it had issued a final notice to the app and gave considerable time to respond and develop an effective mechanism for 'proactive moderation of unlawful online content.'
TikTok has failed to fully comply with the PTA's instructions, a press release sent by the authority reads.