Coronavirus: Italy announces plan to launch major vaccination campaign in January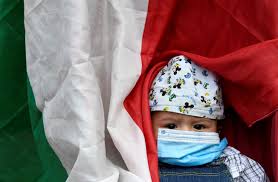 Rome: Italy is preparing to launch a massive vaccination campaign in January, Health Minister Roberto Speranza said – provided one is available by then.
The vaccine drive "will get underway towards the end of January when we hope to have the first doses," Speranza told a meeting of pharmacists.
"This campaign will be without precedent… it will require an extraordinary mobilisation" of resources, he said.
Italy, among European countries now struggling with a second wave of the pandemic, has recorded some 1.3 million cases and a death toll of nearly 50,000 since the coronavirus took hold early this year.
There has been a global effort to find treatments and vaccines and earlier this month US pharma giant Pfizer and its German partner BioNTech reported a breakthrough with a jab shown to be more than 90 percent effective.
Several potential vaccines have shown promising results in clinical trials, including one about to be tested in Italy on hundreds of volunteers.
The Italian government has appointed a task force to plan how and where the first doses will be delivered when international regulators approve a successful vaccine.
"Vaccines represent a huge advance in the history of humanity," said Speranza.
"Today we are talking about the concrete possibility that… in a short time we will dispose of this tool and that gives a measure of the capacity of human beings to react in the face of such a large challenge," he added.
The expert group set up to advise the Italian government said on Friday that both national and international oversight of vaccine development "gives us guarantees" on their safety.
However, one recent survey found that nearly 50 percent of people asked in Italy said they would have doubts about getting vaccinated, including 11 percent who described themselves as "completely against" a vaccine.
Scientists estimate that 60-90 percent of a population needs to be vaccinated – possibly every year – to reach herd immunity against the coronavirus and stop future outbreaks.
The vaccine will be free in Italy, Health Minister Roberto Speranza has long maintained, and looks likely to be voluntary.
"The vaccine is the only definitive solution to Covid-19. As far as I'm concerned it will always be a global public asset, a right for everyone, not the privilege of a few," he said back in June.