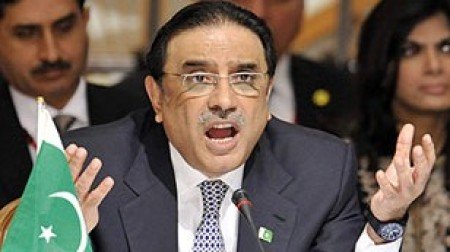 Islamabad: Former President of Pakistan and President Pakistan People's Party Parliamentarians Asif Ali Zardari on the 53rd Founding Day of the PPP has said that there will never be a compromise on the rule of people and the supremacy of Parliament.
Former President Zardari in a message to the party workers said that the time has come to achieve the rule of the people and supremacy of the parliament. The struggle has started and we will achieve this goal. The PPP is steadfast of the ideology of the founder of PPP, Zulfikar Ali Bhutto and our great leader Benazir Bhutto offered supreme sacrifice for these ideals. The PPP workers also offered great sacrifices in this struggle.
President Zardari said that PPP will continue to resist the effort to impose anti-people ideology on Pakistan and its people. The PPP believes in the power of the people and whenever comes to power works for the benefit of the people, he said. This selected government has started sacking government employees and conspiring to snatch the right of pension from the government employees.
The government has usurped the political rights of the people and weakened the parliament. The PPP will resist any effort to disfigure the constitution of Pakistan by this selected government. President Zardari asked the party workers to strengthen Chairman Bilawal Bhutto Zardari's efforts to liberate the country from the shackles of anti-people forces and take Chairman Bilawal's message to every corner of the country