Asifa Bhutto vowed to struggle for democracy in the country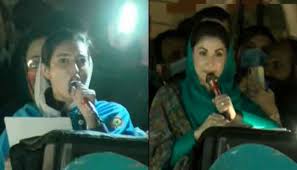 Islamabad: Asifa Bhutto Zardari congratulating the nation on the 53rd Founding Day of Pakistan People's Party said that the selected government thinks that the PPP will be frightened of arrests but if the government arrest men leadership of the party then rest assured that every woman of the party is ready to struggle for democracy in the country.
Asifa Bhutto Zardari said this while addressing a huge jalsa of Pakistan Democratic Movement in Multan on the Founding Day of the PPP. She said that the people have given their verdict by gathering here in such a large number despite the tyranny of this selected government.
Asifa Bhutto Zardari said that Zulfikar Ali Bhutto has laid the foundation of Pakistan as a democratic and welfare state. After that Benazir Bhutto took this mission forward.
Asif Ali Zardari also strengthened this mission by introducing 18th amendment in the constitution and Benazir Income Support Programme. She saluted thousands of workers who sacrificed in the struggle for fulfilling the mission of PPP founder Zulfikar Ali Bhutto.
Asifa Bhutto Zardari said that she came to this jalsa because her brother Chairman Bilawal Bhutto Zardari has been tested positive of Covid-19. She said that the way people had supported Madar-e-Jamhooriat Begum Nusrat Bhutto and Dukhtar-e-Mashriq Benazir Bhutto, once again people will support Bilawal Bhutto Zardari.
She vowed to be with Chairman Bilawal Bhutto Zardari and people of Pakistan in this struggle for democracy. We will complete the mission of the founder of PPP, she declared.
She said that we will save Pakistan from this selected government of Imran Khan. She raised the slogans of Jeay Bhutto (long live Bhutto).