China makes progress on waste sorting: ministry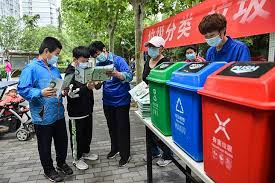 Beijing: The Ministry of Housing and Urban-Rural Development said on Friday that China has made progress on waste sorting.
Waste sorting has been implemented in 86.6 percent of residential communities, covering 77 million households, in the 46 pilot cities that are required to carry out mandatory waste sorting by a 2017 nationwide plan, according to Liu Lifeng, an official with the ministry.
Currently, those 46 cities can handle a total of 62,800 tonnes of kitchen waste per day, 28,100 tonnes more than the daily average in 2019.
The average recovery rate of household waste stood at 30.4 percent in those cities, 15 of which saw a recovery rate surpassing 35 percent, according to the ministry.
Other cities at the prefectural level or above in China have all rolled out plans for garbage classification and started to implement those plans in an all-round way, Liu said.