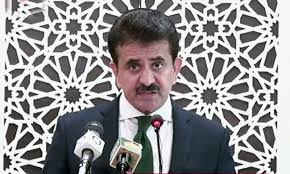 Islamabad: Pakistan Thursday condemned India's reprehensible tactics against Pakistan that have once again been exposed in its latest report by the EU DisinfoLab.
At his weekly news briefing in Islamabad, Foreign Office spokesperson Zahid Hafeez Chaudhri said according to the EU Group's latest report, there is a vast network of fake media outlets, think tanks and NGOs serving Indian interests and involved in amplifying malicious content against Pakistan.
He said India is not only spreading disinformation but also abusing international institutions in its desire to malign Pakistan.
Zahid Hafeez said such Indian ploys of spreading misinformation are doomed to fail. He said by spreading falsehoods, India can neither cast a shadow on the international stature of Pakistan nor can divert the attention of the international community from its horrendous human rights record.
He said instead of wasting more time in peddling falsehoods and fake news, India is advised to put its own house in order and take care of its own issues of poverty, grave human rights violations, exploitation of minority rights and rising radicalism.
The spokesperson said the world should take notice of the Indian disinformation campaign and Pakistan will raise this issue at every level.
Zahid Hafeez Chaudhri said Pakistan has already put forth irrefutable evidence extensively documenting India's active planning, promoting, abetting, financing and executing terrorist activities in Pakistan.
He said publication of the recent report by the EU group only substantiates Pakistan's position in front of the international community.
Responding to a question about recent threats from New Delhi, the spokesperson said Pakistan has consistently been apprising the world about the possibility of India resorting to false flag operation against Pakistan. He said we forewarn the world community yet again. He said our armed forces are fully vigilant and ready to respond to any misadventure or miscalculation by India.
With regards to recent developments in the Gulf region, the spokesperson said Pakistan welcomes the progress towards resolution of the rift in the Gulf region and appreciates Kuwait's sincere efforts for helping in promoting reconciliation among the countries in the dispute.
He hoped that enhanced confidence and understanding amongst these countries will foster durable peace and prosperity in the region.