Bialwal Bhutto announces Islamabad march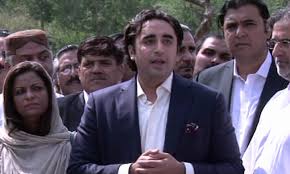 Lahore: Pakistan People's Party chief Bilawal Bhutto Zardari on Sunday asked the party workers to prepare for the Islamabad march Speaking at the Pakistan Democratic Movement (PDM) rally here, he said the PPP's foundations were laid in Lahore by party founder Zulfikar Ali Bhutto. He paid tribute to all those who had died in Lahore but never bowed to dictators.
He said that PDM is reaching out to every town and village. "Things are in a dismal state with today's incompetent, illegal and unqualified government. People have nothing but curses in their hearts and on their lips."
The PPP chairman said that these "fools have no clue or wisdom about history", adding: "When have we ever feared dictators? We have burned all our boats."
He said that when the people band together in a show of force like today "chains of oppression are broken". "Your victory is near," he said, to a roaring crowd. "InshaAllah this puppet government will be sent home."
He said that although students, traders, doctors, and shopkeepers are all in deep distress, the future of Pakistan is bright. "The government cannot feel the pain of the people because they did not come through your vote. This is not the choice of the people."
Bilawal Bhutto said that the "biggest joke" was being pulled with Punjab, where the "fake government" has no concern for the people's rights. "In the city of lights there is nothing but darkness," he added. The PPP chairman said that PDM stands by the people of Lahore.
He said that it is the platform's demand to free Opposition Leader Shahbaz Sharif and PPP's Khurshid Shah.
Bilawal Bhutto said that when students demand their rights through student unions, there is "police gardi", when doctors and nurses ask for their rights, force is used against them and when farmers ask for their rights, they are "martyred". "But the night of the oppression is about to end," he said.
The PPP chairman said that all the Opposition parties have put aside their political differences and are standing together on the platform of PDM. He said this was done "so we can restore your rightfully chosen leaders".