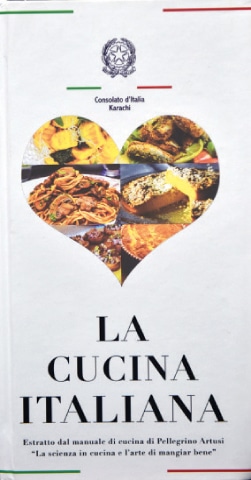 Karachi: A book titled La Cucina Italiana was launched and a live demonstration of how to make risotto by chef Marco Saracino as part of the ongoing Italian cuisine week at a local hotel was held by the Italian Consulate in Karachi on Friday evening.
Speaking on the occasion Consul-General of Italy in Karachi Danilo Giurdanellia said the cuisine week was an exercise in culinary diplomacy. It is organised annually in this time of year by the ministry of foreign affairs. Its purpose is to promote Italian cuisine, hospitality, culture and to connect people, cultures and countries across the world.
"I've been here a short while, a couple of months, but I've understood that Italy and Pakistan have a lot of similarities. One of them is: we are both family-based society. We attach a lot of importance to family, to tradition, culture … and food is what you eat with your family, share with your friends. You make food with care, attention, and you want to make your children and friends eat the best food. That's something we share.
"By organising the week we not only promote Italian products, ingredients, machines, etc but we also give an opportunity to Pakistanis to discover the Italian way of life and culture. This year's event is named after Pellegrino Artusi who was an Italian gastronomist from the 19th century. He was a rich land owner, a writer and a knowledgeable man. He once fell sick and started to write a book about cuisine. His book was published shortly after Italian unification and the purpose of the book was to describe the best Italian recipes. Artusi was a positive thinker. He believed in science and progress. Since he had fallen sick he believed that to stay healthy he had to eat healthy food. This year is his 200th birth anniversary. This is the reason we have decided to publish a book with the help of Paramount Books. It's made with excerpts from Artusi's publication from the 19th century. We tried to choose the best recipes that can be adapted for Pakistani families," he said.
The diplomat pointed out that Italian chef Marco Saracina had especially flown in from Dubai to demonstrate how to cook Italian food on the occasion. He added he (Giurdanellia) had found some very interesting connections between Italian and Pakistani food and gave the example of a product processed in Pakistan with Italian knowhow.