Islamabad: Prime Minister Imran Khan Monday said access to affordable basic health care for every citizen is the top priority of the government.
He was talking to the Punjab Health Minister Yasmin Rashid who called on him in Islamabad.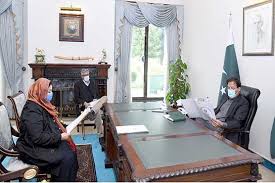 The Prime Minister said along with improving the system of public hospitals, the government will provide affordable land to private hospitals to ensure that poor families do not miss out on treatment due to unavailability of resources in case of illness.
She said as per the instructions of Prime Minister hundred percent families of Punjab would be provided Health Cards worth 720,000 rupees per family within twelve months.
She said by June of this year, 45 percent of the population of Punjab, which includes seven districts of Sahiwal and Dera Ghazi Khan divisions, will be provided health cards.