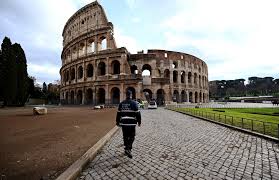 Rome: The Italian government had said in early December that the country could begin to reopen from January 7th, which is when the current set of rules expires.
But as new cases of coronavirus remain higher than hoped, that isn't happening.
The Italian government has approved extensions to many rules from January 7th. Here's what we know so far.
Many of Italy's current restrictions stay in place and planned reopenings have been postponed, according to a government ordinance approved in the early hours of Tuesday morning.
High schools were due to resume teaching at least 50 percent of classes in-person from the 7th. This has been postponed to the 11th.
The regions of Veneto and Friuli Venezia Giulia have said they will keep their high schools closed until at least January 31st.
Italy's ski slopes were scheduled to reopen from January 7th. But this has now been postponed until January 18th as regional authorities said they needed more time to comply with Covid-19 regulations.
Shopping centres must close on weekend, and the government has confirmed that bars and restaurants would stay shut over the weekend of January 9-10.
Bars and restaurants are only allowed to serve customers until 6pm even in yellow zones.
Non-essential travel between regions is to remain prohibited until at least January 15th.
International travellers who spent any part of the period from December 21st to January 6th outside Italy must continue to quarantine for 14 days after their arrival in Italy, even if they're entering Italy after the period itself. Find more information here.
People who leave and return to Italy after this time – i.e., people who spent the entire period between December 21st and January 6th in Italy and are only travelling from January 7th onwards – can show a negative Covid-19 test from the past 48 hours to avoid quarantining on arrival.
It's not known what the government is planning, but any changes will depend on the coronavirus sitation in each region. If the infection rate isn't dropping as hoped. it is likely that many rules will be kept in place.
Government ministers say they are waiting to see the weekly official health data reports from the Health Ministry, which are released every Friday afternoon, before they can make any decisions.
The number of currently positive cases in Italy is still dropping, but slowly, according to official data.
On Monday, when the numbers are usually lower than usual, Italy's health authorities reported 10,800 new cases within the past 24 hours and 348 more deaths.
The number of tests being carried out has fallen, to around 77,000 daily, and the percentage of tests coming back positive is currently 13.8 percent.