Italy: Old soldier who serenaded wife now plays in hospital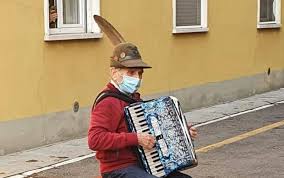 Milan: Stefano Bozzini, who became famous for serenading his wife under her hospital window, now entertains his co-patients in a covid centre.
Stefano Bozzini, a retired member of the Italian army's Alpini mountain infantry, became famous for playing the accordion for his wife, Carla Sacchi, at her hospital in Castel S. Giovanni near Piacenza.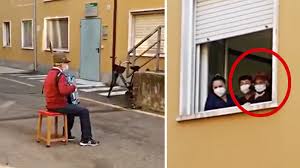 Stefano was not permitted to enter the hospital due to Italy's covid-19 restrictions so instead he sat in the courtyard below with his accordion, serenading Carla for weeks with all the songs that had defined their 47 years of marriage together.
Since then Carla died and now Stefano has been admitted to a covid clinic in nearby Cortemaggiore, however he is reportedly not in a serious condition.
Stefano's children made sure that he took with him his most treasured possession – his accordion – and now the old soldier entertains his fellow patients in the hospital.
His daughter Lucia told Piacenza daily newspaper Libertà that his trusted musical instrument has helped her father "morally but also physically."
As for Stefano himself, he says: "Sometimes while I play, people come into the room, try out a few dance steps and then leave."