Consensus across Pakistan over friendship with China: Ambassador Nong Rong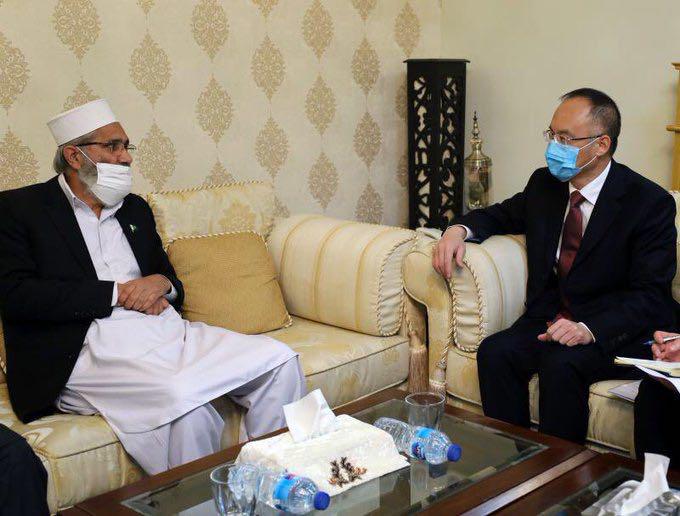 Islamabad: Chinese Ambassador to Pakistan Nong Rong on Thursday afternoon said that there was a consensus across Pakistan over friendship with China.
His comments came a day after a meeting with right-wing Jamaat-e-Islami (JI) chief Senator Sirajul Haq on Wednesday.
"Had a pleasant meeting with Sirajul Haq Senator & Ameer Jamaat-e-Islami Pakistan on issues of mutual interest. Proud to see that China-Pakistan friendship is the cross-board consensus of Pakistan," the envoy tweeted.
Ambassador Rong took over in October 2019 from Ambassador Yao Jing who has been transferred back to headquarters in Beijing for the next posting.
Ambassador Rong is the first non-career ambassador for Pakistan in more than 40 years.
The Ambassador has been dealing in foreign trade and economic affairs in 29-year of his service in China in various capacities.
He was never associated with the Chinese Foreign Office but has tremendous skill of negotiating and comprehending trade and economic matters.
Ambassador Nong Rong is expected to provide much needed push to the historic China-Pakistan Economic Corridor (CPEC) plans which is flagship project of its gigantic Belt and Road Initiative (BRI), connecting China with the whole world through new highways and routes.
The envoy has been holding meetings with Pakistani political and military leadership since coming to Pakistan.
His meeting with the JI chief and other smaller parties' leaders are significant as they aim to evolve closer links between China and the representatives of different schools of thought in Pakistan.
The Chinese Ambassador invited the JI chief for a visit to China and said that it will be arranged on appropriate time amid the Covid-19 pandemic.
The JI and Communist Party of China had signed a Memorandum of Understanding (MoU) in 2009, agreeing on exchange of delegations.
During the Wednesday meeting, the JI Emir (leader) impressed upon the Chinese envoy that strong Pak-China relations were vital for the development and the stability of the region.
He had a detailed discussion with the Chinese envoy on the situation in Afghanistan and Kashmir and the CPEC.
Senator Sirajul Haq said that peace in the region and particularly in Afghanistan was vital for the success of the CPEC.
Ambassador Nong Rong said that China had been following the policy of providing equal rights and facilities to all its citizens irrespective of their regional, religious and racial differences. He said China gave key importance to Jamaat-e-Islami and its leader Senator Sirajul Haq.