Senator Rehman Malik, Japanese ambassador Matsuda Kuninori meet on lunch in Japan embassy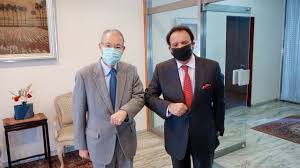 Islamabad: Senator Rehman Malik, Chairman Senate Standing Committee on Interior and Japan Ambassador to Pakistan Matsuda Kuninori met on Wednesday in Japan embassy on lunch.
Ambassador Matsuda had invited him at lunch in embassy wherein matters of mutual interest, regional security situation and measures to further cement bilateral cooperation between the two countries were discussed.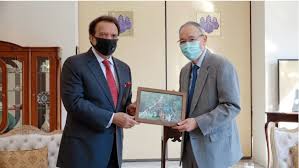 Senator A. Rehman Malik thanked Japanese ambassador and his government for the continued support to Pakistan at the most difficult times particularly in fight against COVID-19 and 2005 massive earthquake in Azad Kashmir and adjacent areas.
The Ambassador expressed his warm feelings towards the people of Pakistan and prayed for the prosperity of the people of Pakistan. Senator Rehman Malik told him that Pakistan is the most congenial and convenient country for the Japanese nationals to investment in Pakistan. He conveyed that the people of Pakistan have great love and respect for the people of Japan and urged to further enhance people-to-people contact between two countries.
Later in the evening, MNA Nawabzada Iftakhar Ahmed Khan Babar accompanied by PPP District Muzaffargarh office beariers Nawabzada Adnan Khan Babar, Sahil Chandio and others visited Senator A. Rehman Malik at his residence and condoled with him over death of his sister.
A delegation of Rawalpindi Islamabad Union of Journalists comprised of its President Aamir Sajjad Syed, Tariq Ali Virk Secretary and other body members also met and condoled with Senator Malik over death of his sister.