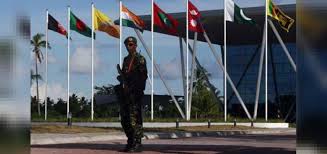 Islamabad: Experts have voiced concern over the increase in cyber-enabled conflicts in South Asia and called for better policy preparedness and institutional capacity for effectively reducing vulnerability to cyber-attacks.
They were speaking at a webinar hosted by Strategic Vision Institute (SVI) on 'Cyberspace Security in South Asia'. The event was held to assess the impact of cyber and information operations to security of the region that is being exacerbated by the inter-state conflicts.
Former Vice Chancellor Air University Air Vice Marshal (R) Faaiz Amir said India had significantly enhanced its cyber capabilities and is seeking to dominate the regional cyberspace. Citing Indian IT industry's figures for the last fiscal year, he said it generated a revenue of US $ 191 billion, which made over 8% of India's GDP. Growth of IT sector at such a huge pace, moreover, helped India greatly off-set its import bill. He said India was likely to introduce a new cyber security policy this year.
AVM Amir said states compete for superiority at local system level to impact other states at a psychological and decision-making levels by causing major disruptions and occasional damage. He said India has a large technical force to be a factor in a conflict.
Dr. Tughral Yamin, Associate Dean National University of Sciences and Technology, stated that although security ranks high on Pakistan's national agenda but in the increasingly complex threat milieu, cyber security usually gets relegated to the bottom rung and sometimes it is literally ignored. Therefore, Pakistan is way behind other countries in protecting itself in cyber space.
He urged effective policies and legislation to counter the ill-effects of debilitating cyber-attacks.
President SVI Dr. Zafar Iqbal Cheema, in his introductory comments, deliberated on how cyber space evolved into the new domain of warfare in the 21st century.
He said South Asia too has been affected by this emergent warfare domain because of Indian aspiration to dominate cyberspace. Pakistan, he maintained, is among the most spied countries and is also among the most vulnerable countries as far as cyber-security is concerned.
Dr Cheema recalled the intensification of India's cyber-attacks against Pakistan and called for enhancing cyber capabilities.