Imran Khan launches anti-Covid vaccination campaign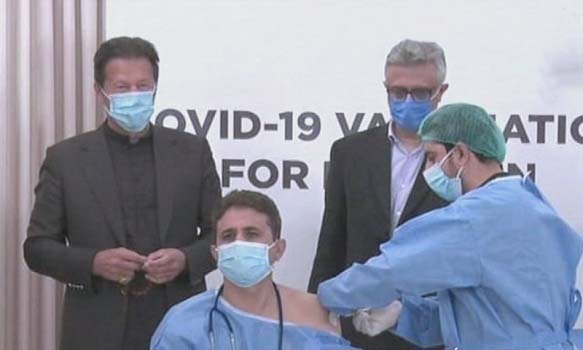 Islamabad: Prime Minister Imran Khan on Tuesday launched vaccination against the deadly coronavirus, initially for health workers.
He said the vaccination would be judiciously distributed across all the provinces. He was appreciative of China for providing the 0.5 million doses of vaccine.
The first covid-19 vaccine was administered under the supervision of Prime Minister Imran Khan. Frontline health worker Dr Rana Imran became the first person in Pakistan to receive the Chinese Sinopharm Covid-19 vaccine.
Minister for Planning and Development Asad Umar said Covid-19 vaccination campaign will be started today in the presence of Prime Minister Imran Khan.
In a tweet, he said the national vaccination campaign will get underway in the provincial capitals from tomorrow.
The Minister for Planning said in the first phase, the vaccine will be administered to frontline health workers.
Meanwhile, Special Assistant to the Prime Minister on Health Services Dr. Faisal Sultan while talking to a private news channel in Islamabad today, said priority will be given to healthcare and frontline workers in the first phase of COVID-19 drive, while later this month, the vaccines will be given to those elderly people who are above 60 years of age.
The Special Assistant said getting vaccinated for Covid-19 will be voluntary and no one will be forced for it.
He said corona vaccine would be available for free of cost at all public hospitals. Dr Faisal Sultan said emergency use of the vaccine has already been initiated for high-risk people, including frontline medical workers and seniors.