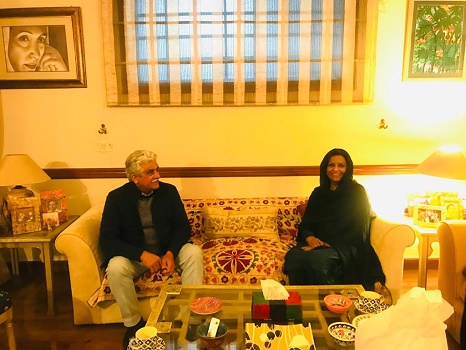 Islamabad: Pakistan People's Party (PPP) Germany President Syed Zahid Abbas Shah has said that the PPP was the only hope for the masses.
In a meeting here with senior PPP leader Syeda Nafisa Shah, he said the PPP had fought dictators in the past and was again struggling to revive real democracy in the country.
Syed Zahid Abbas Shah said more and more educated people were joining the PPP which indicated that they find the party closer to their dreams.
He said the PPP has been the torch bearer for advancing civic and social reforms for more than half a century now.
"Since its inception in 1967, the party has undergone and faced a plethora of challenges, controversies, allegations, and propaganda. It was the first democratic party to successfully oppose martial law and introduce democratic norms in Pakistan, setting a precedent for other parties to follow," he said.
Syed Zahid Abbas Shah said despite the constant propaganda against the PPP leadership being peddled by certain quarters throughout the decades, one thing which has set it apart from others has been the party's popularity and connection with the masses over the decades.
The narrative of invoking 'mythologies and tales of time gone by' can only work for a limited time. The fact that the people of Pakistan have elected the PPP into government five times i.e., 1970, 1977, 1988, 1993 and 2008 is a testament of the party and its leaderships' relationship with the masses, he added.
Nafisa Shah appreciated the dedication and commitment of Syed Zahid Abbas Shah with the party. She said the PPP under Syed Zahid Abbas Shah in Germany had performed much to the expectations of the top leadership.