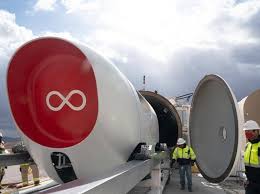 Rome: From Rome to Milan in just half an hour.
This is the promise of Hyperloop: a train without tracks, which travels suspended in a tube pushed by magnetic levitation and is capable of reaching speeds of 1,200 km per hour.
The Hyperloop was first conceived in 2014 by Elon Musk – the founder of Tesla and SpaceX – with the aim of developing systems capable of moving passengers and/or cargo at airline speeds at a fraction of the cost of air travel.
Italy's high-speed trains to head south
"The technology is real and safe," says Jay Welder, the head of Virgin Hyperloop, the only company that has successfully tested Hyperloop with passengers.
Walder, quoted by Italian newspaper Corriere della Sera, said that the first routes should be up and running in the United States by 2030 and that "we are already talking with the European Union."
Milan to Paris by train in just six hours.
"I see important developments in Europe, we are working closely with the European Commission's transport managers" – said Walder – "The EU plan to reduce polluting emissions by 2030 must go through radical changes in the transport system." Italo speeds ahead
Italy is one of the countries that has shown itself most interested in new technology, reports Italian newspaper La Repubblica, with preliminary talks reportedly underway between Leonardo – an Italian multinational company specialising in aerospace, defence and security – and state railway company Ferrovie.
"Leonardo is working on the engineering of the capsules, and we want to build the first routes in Italy together with Ferrovie," said Paolo Barletta, an Italian investor who with Alchimia is the only European partner of Virgin Hyperloop, reports La Repubblica.
Development in Italy will not be easy due to the terrain, not to mention the fact that it takes around €60 million to build one kilometre of Hyperloop infrastructure.
Luxury train from Venice to London
"We will start, and I am talking about 2030 or so, with short routes: Milan-Malpensa and Rome-Fiumicino to be covered in less than two minutes," said Barletta.
The concept behind the revolutionary transportation system is based on magnetic levitation technology, with the Hyperloop moving through hermetically-sealed vacuum tubes.
Vintage snow train from Rome to Roccaraso
This allows the Hyperloop to reach speeds of up to 1,200 kilometers per hour, meaning that a trip from Milan to Rome would take 20 to 30 minutes.
However for now the company remains at the testing stage, with 2030 the most optimistic prospects of its arrival in Italy.
In the meantime Hyperloop is increasingly being referred to as the "train of the future.