PPP urges ECP to stop governors from taking part in Senate election campaign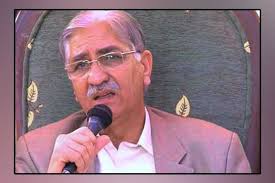 Islamabad: Secretary General Pakistan People's Party (PPP) Syed Nayyer Hussain Bukhari has urged the Chief Election Commissioner to stop governors of provinces from taking part in the Senate election campaign.
Syed Nayyer Hussain Bukhari in a letter addressed to the CEC has said that according to the ECP notification, president and governor are not allowed to take part in elections. The notification by the ECP issued on 25 February 2021, says "The president and the governors of the provinces shall not take part in election campaign relating to election to the Senate in any manner whatsoever and shall not use their respective offices as well as houses in connection therewith".
Bukhari wrote that there are many instances where it is reported in the media that governors are holding meetings with various candidates for the Senate elections at their offices and houses.
He urged the CEC to instruct the governors to strictly observe the code of conduct and desist from using their offices and houses in connection with the Senate elections.
Meanwhile, PPPP Senator Mustafa Nawaz Khokhar has said that the government has been miserably defeated before the Senate elections as the Supreme Court has given its opinion that the Senate elections will be held according to the constitution that is by the secret ballot.
Senator Mustafa Nawaz Khohar in a statement has said that the government wanted to avoid the Senate elections but failed. It is so ridiculous that the government spokesmen are declaring this opinion as their victory. The Supreme Court has responded in negative about the question by the government. These spokesmen have no answer to the questions like has the Supreme Court asked to hold the Senate elections by show of hands as the government wanted. They also do not have the answer to the question that is the Presidential order effective after the Supreme Court's opinion.
Senator Khokhar said that 3 March is the day of victory of Syed Yousuf Raza Gillani and defeat of the candidate of the selected Prime Minister. This puppet government will be defeated in the Senate election similar to the defeats in Bye-elections, Senator Khokhar concluded.
Also on Monday, independent member national assembly from Mirpurkhas Sindh, Syed Ali Nawaz Shah has said that he will vote for the PDM candidate in Senate from Islamabad, Syed Yousuf Raza Gillani in the upcoming Senate elections.
Chairman PPP, Bilawal Bhutto Zardari and Syed Yousuf Raza Gillani called on Ali Nawaz Shah at his residence in Islamabad and requested him to vote for Syed Yousuf Raza Gillani in the Senate elections. Syed Ali Nawaz Shah said that he respects Bilawal Bhutto Zardari and his vote is on his disposal. He assured Bilawal Bhitto Zardari that he will vote for Syed Yousuf Raza Gillani in the Senate elections.