No change in Pakistan's stance on Kashmir dispute: Zahid Hafeez Chaudhri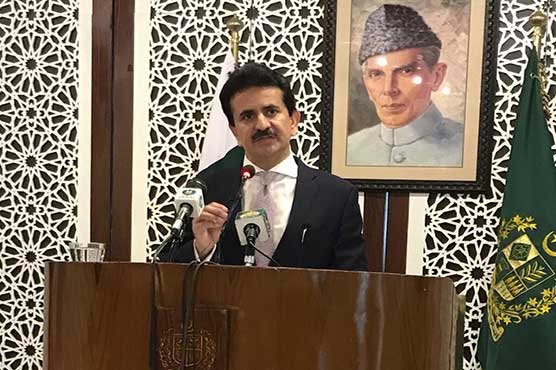 Islamabad: Ministry of Foreign Affairs spokesperson Zahid Hafeez Chaudhri Wednesday said that there is no change whatsoever in Pakistan's position on the dispute of Jammu and Kashmir and Pakistan's position is anchored on the United Nations (UN) resolutions on Jammu and Kashmir dispute.
He made this statement while briefing the members of the Parliamentary Committee on Kashmir here at the Parliament House. Shehryar Khan Afridi, Chairman of the Committee, chaired the meeting.
MoFA spokesperson Zahid Hafeez said that Prime Minister's statement made in Kotli, Azad Jammu and Kashmir, was consistent with Pakistan's longstanding policy on Jammu and Kashmir dispute and Pakistan would continue its support of Kashmiris at all forums.
He said that the recent understanding between the Pakistani and Indian military to observe the Line of Control agreement of year 2003 was aimed at saving lives and prosperities of the Kashmiri people living on both sides of the LoC.
"To save Kashmiri lives and to provide some comfort to Kashmiris on both sides of the LoC, it was necessary to abide by ceasefire agreement," he said.
He said the focus was on purely military understanding on military mechanisms reached about ceasefire on the LoC.
He said Pakistan believes that any violation of ceasefire agreement may jeopardise regional peace and may also hurt the Kashmiris living on both sides of the LoC.
"There is absolutely no change in Pakistan's stance on resolving Kashmir dispute through dialogue and under the UN resolutions on Kashmir dispute," he said.
The Chairman said that the pertinent questions of Khurram Dastagir Khan would be addressed by Foreign Minister Shah Mahmood Qureshi in next meeting.
Pemra Chairman Saleem Ahmed said that 50 TV channels had given specific time to coverage of Kashmir issue and 38 channels had covered Kashmir in terms of documentaries, songs and programmes.
He said only in February, ten hours coverage was given by each TV channel. While Prime Minister's speech in Kotli was covered by 48 TV channels. He said that Pemra can direct private channels to air 10 percent content under Corporate Social Responsibility (CSR).
Chairman Kashmir Committee Shehryar Khan directed that private TV channels must develop tele-films, dramas and special awareness programmes to project awareness on Kashmir dispute.
Chairman Kashmir Committee also took exception to the absence of regional head of social media site, Facebook, from the committee meeting wherein the official refused to attend the meeting. Shehryar Khan Afridi directed the Chairman PTA to ensure that the Facebook regional representative attend the next meeting of the Committee and respond to the questions raised by the committee members.