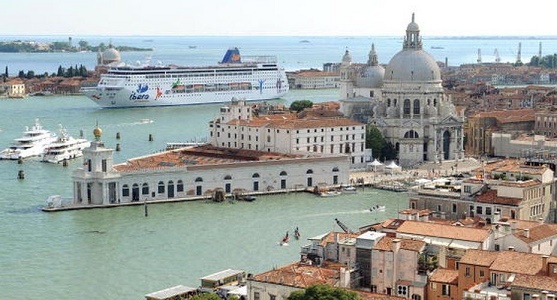 Venice: The mayors of Venice and Florence, Italy's world-famous cradles of art and history, published plans on Monday to help them rebuild on a "new model" of tourism.
The plans, set out in a nine-page booklet, include more policing and more funds for public transport, but also better regulation for guides and for short-term accommodation rentals.
The two cities urged the government to give them more powers to regulate the tourist industry when travellers eventually return.
Even as most of Italy entered a new lockdown on Monday, Mayor of Florence Dario Nardella spoke of the need to look ahead to "a new model of tourism also linked to enhancing, promoting and protecting cities of art".
Their ideas could be adopted by other parts of Italy, he said, adding: "As soon as the borders reopen after the coronavirus emergency, the country must be ready."
The mayors wrote that they wanted instant fines for visitors caught vandalisng the cities' streets or monuments, as well as "smart control rooms with increased video surveillance".
As well as better regulation of tourist rentals, they suggest limiting some commercial activities aimed at tourists and "preserving the craft and neighbourhood shops in the historic centres".
"The idea was born after listening to the speech of President Draghi on the day of his inauguration, in which he touched on the theme of the cities of art and the need for a new model of tourism", said Nardella.
Venice mayor Luigi Brugnaro emphasised that as "ambassadors of Italy in the world", their two cities must lead the way.
Mass tourism had only been set to keep growing in Italy in recent years, leading to widespread concerns about whether cities like Florence and Venice would be able to cope.
In Venice, increased tourism had long been blamed for a rise in petty crime, from littering to vandalism, and the lagoon city famously struggles with pollution from the large number of cruise ships docking in the lagoon.
Before the pandemic, the centres of Italy's most famous cities were usually swamped by tourists – so much so that they had in recent years brought in a range of measures aimed at reducing the ill-effects of mass tourism.
Authorities, tired of what they saw as bad behaviour from tourists, had cracked down on offences ranging from outdoor snacking in central Florence to cycling shirtless and brewing coffee in the street in Venice.
Venice last year also delayed the planned introduction of a new tourist tax, intended to help cover the costs of keeping the city clean and safe after years of problems caused by overtourism.
Authorities in the canal city said the levy, targeted at day-trippers excluded from an existing tax on tourists staying overnight, will now not be implemented until 2022.
The city had just installed new 'people counting' technology as the crisis hit in February 2020.
With dwindling numbers of local residents left in central areas of either city. both Venice and Florence have been quiet since the pandemic arrived and put a stop to most travel.