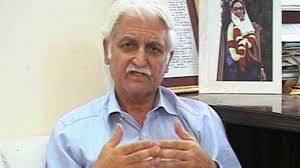 Islamabad: Enforced disappearance is a crime against humanity and Pakistan must end the impunity of this heinous crime before it was leveraged by the international community to turn the screw on the country.
This has been stated by secretary general of the Pakistan People's Party Parliamentarians Farhatullah Babar in a statement on the eve of International Day on Enforced Disappearance.
Like FATF and safe sanctuaries for some militants the issue will become yet another albatross around the neck if immediate remedial measures were not taken, he warned
The crime of enforced disappearances is a far too serious crime as it is a violation of all other rights including right to justice, to life, to liberty, against torture besides causing unbearable psychological, social and financial agony to the families of the victims.
All initiatives taken by the Courts, the Parliament, political parties, the media and the civil society organizations have come to naught, he said and added that it only showed that those involved in it are more powerful than all democratic and constitutional institutions.
"The impunity of crime, the inability to hold to account a single perpetrator is frightening".
He said that the recently introduced Bill on Enforced Disappearances was more of a political statement than a genuine move forward. Section 365 of the PPC already criminalizes unlawful abductions and deprivation of liberty and there was nothing new in the Bill in this respect, he said.
He said even if the Bill was enacted it will not achieve the objective as long as there is no legislation to determine the mandate of intelligence agencies.
Farhatullah Babar called for a new and comprehensive legal architecture to address the issue.
The new legal architecture must provide for mechanisms to register complaints, carry out investigations, hold perpetrators to account, rehabilitating victim' families, making transparent the opaque internment centres and bringing state intelligence agencies under the ambit of law, he said.
Farhatullah Babar said that some years ago the Senate Committee of the Whole endorsed a Bill to determine the mandate of ISI and called for enactment of legislation. in its light
He recalled that in July 2019 the DG ISPR publicly stated "On the directives of Chief of the Army Staff General Qamar Javed Bajwa, a special assistance cell has been established at the General Headquarters (GHQ) to facilitate the process of resolving cases of missing persons".
Farhatullah Babar demanded that the government should now come out clean on the terms of the special cell and the progress made by it.