PPP to fulfill people's dreams: Bilawal Bhutto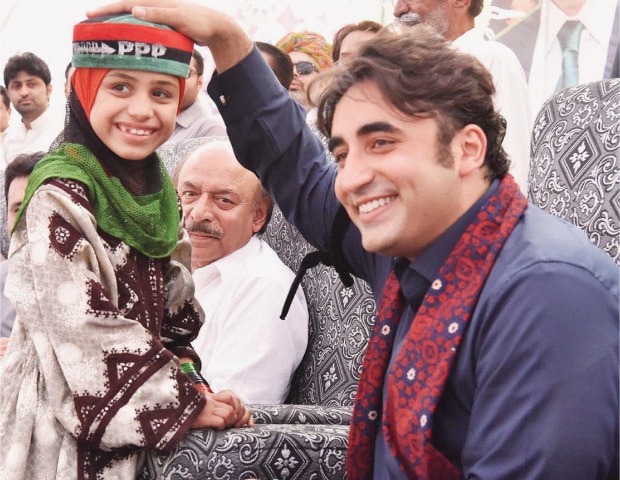 Multan: Pakistan People's Party (PPP) chairman Bilawal Bhutto Zardari said Saturday that the PPP will have to take forward the legacy of the elders of it was "our obligation to fulfill that dream of people's prosperity and wellbeing."
He said Quaid-e-Awam Shaheed Zulfikar Ali Bhutto had founded this party to serve the people. Quaid-e-Awam had promised to give "Roti, Kapra aur Makan" but the present ruler is snatching these things from the poor people.
He said Benazir Bhutto had provided jobs to thousands of youngsters during her government in1993-1996 so that the economy of the country could stand on its own feet.
"Then Mian Sahib during his government sacked those employees but in the next PPP government, our Prime Minister Syed Yousuf Raza Gillani reinstated them through the parliament. Now this government has sacked those 20,000 employees again. The common man of this country is suffering from historic unemployment, poverty and inflation due to this selected government. We can take the country and its people out of this quagmire through the ideology of Quaid-e-Awam and the manifesto of Shaheed Mohtarma Benazir Bhutto. We all have to work together to convince people that if we want to save Pakistan then we have to support the Pakistan Peoples Party. We will form the next government and once again there will be Awami raj," he added.
The Chairman PPP said this while addressing party workers at the residence of late Syed Nazim Hussain Shah. He condoled with his sons Liaqat Ali Shah and Barrister Mudassir Hussain Shah on the passing away of their parents late Syed Nazim Hussain Shah and Mrs. Nazim Hussain Shah. He said that Nazim Hussain Shah's services for the party and the common people are unforgettable.
The Chairman PPP arrived in Multan and spent a very busy day meeting political leaders of the area and visiting residences of notable PPP leaders who have passed away recently to condole with the families of departed souls and offering fateha.
Large numbers of PPP workers gave a roaring reception to their Chairman Bilawal Bhutto Zardari at Syedan Wala Bypass, Shershah road and other places. Rose petals were showered on the cavalcade.
Twice elected member National Assembly from Layyah and former federal minister Bahadur Khan Sehar called on Chairman Bilawal Bhutto Zardari and invited the Chairman for dinner at his place on 11 September which was happily accepted by Chairman Bilawal.
Bahadur Khan Sehar will formally announce joining the party at that event. Former Prime Minister Syed Yousuf Raza Gillani and Makhdoom Ahmed Mehmood were also present at the meeting.
Earlier a ticket holder of Pakistan Muslim League-Quaid-e-Azam (PML-Q), Mian Mazhar Abbas and MQM ticket holder from Muzaffar Garh, Amjad Ali Amjad called on the Chairman PPP and announced joining PPP. Makhdoom Ahmed Mehmood, Khawaja Rizwan Alam, Natasha Doulatana, Haider Zaman Qureshi, Basroji, Abdul Qadir Shaheen, Hasan Murtaza and Shahzad Saeed Cheema were also present on the occasion.
During the day, Chairman Bilawal spoke to the opposition leader in the National Assembly Shahbaz Sharif on telephone and discussed the political situation and the appointment of members Election Commission of Pakistan.
Chairman Bilawal visited the residence of general secretary PPP Multan, A D Khan Baloch and condoled his brother's death and offered fateha. Chairman PPP also visited the residence of former senior deputy president PPP Multan, Ali Haider Zaman Gardezi and condoled with him on his brother Col R Nasir Zaman Gardezi's death and offered fateha for the departed soul. Rao Sajid, Abdul Qadir Shaheen and Haider Zaman Qureshi were also present during these visits.
Later on the district organisation of the PPP Multan hosted a reception at the Peoples Secretariat in honour of the Chairman PPP Bilawal Bhutto Zardari. The notables of the city, intellectuals, members of civil society and businessmen attend the reception.