Next Prime Minister, Chief Minister Punjab will be Jiyalas: Bilawal Bhutto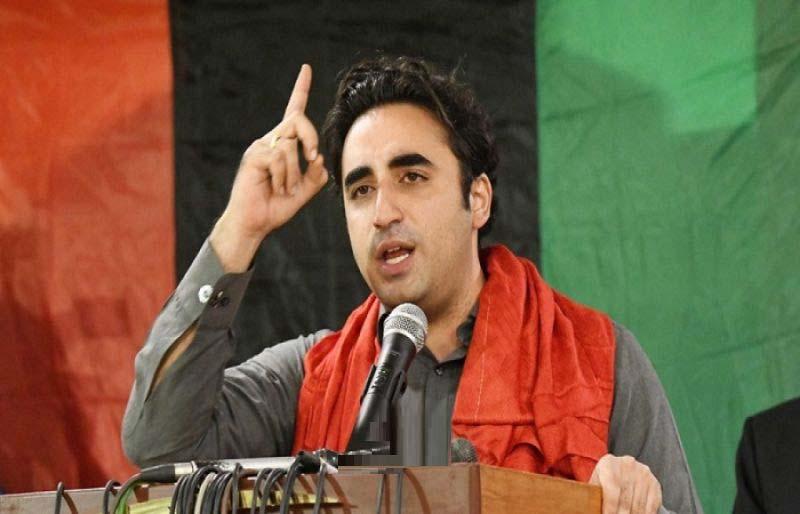 Multan: Chairman Pakistan Peoples Party, Bilawal Bhutto Zardari said Monday that he does not only want PPP Jiyala as Prime Minister but also he wants the Awami government in Punjab and a Jiyala chief minister in Punjab.
Chairman PPP said the message of the people of Vehari for entire Pakistan is the Bhutto of Vehari, Bhutto of Punjab and Bhutto of Pakistan is "Zinda". It is a message for Imran Khan that we have won the next elections. The PPP has relation with the people of Waseb for the last three generations. The people of Waseb had written history by supporting Quaid-e-Awam who gave Pakistan prosperity. The wrote history when the elected first woman Prime Minister of the whole Muslim World. Now I want your support to make Pakistan prosperous once again. We will change not only Waseb and Punjab but entire Pakistan. The basic principle given by the Quaid-e-Awam is still our manifesto and that was Islam is our religion, Democracy is our politics, economic equality is our economy and all powers to the people. Shaheed Mohtarma Benazir added another principle and that was martyrdom is our destination.
Bilawal Bhutto Zardari said that the anti-people always had a vilification campaign against the PPP leadership. Quaid-e-Awam was called a Kafir and traitor and Mohtarma Benazir Bhutto was called a security risk. This country is a nuclear power because of Quaid-e-Awam and has missile technology because of Shaheed Mohtarma Benazir Bhutto. Quaid-e-Awam brought back 90 thousand soldiers and reclaimed 5000 square miles from the enemy. The PPP serves the people. The people who had called a thief to President Zardari have been proved a thief themselves. The selected who called us thief has proved to be a sugar thief, a wheat thief and a thief who stole employment from the people. He sacked 20 thousand employees but we will fight the case of employees in courts and the parliament. We will not forgive Imran Khan for this. We will hold him accountable.
Imran Khan had promised 10 million jobs and 5 million homes but he has snatched bites of bread from the people. In contrast, the Quaid-e-Awam had provided jobs to the people. He gave free passports to the people and enabled them to work abroad. The people had a slogan for Mohtarma Benazir Bhutto, "Benazir aaye gi, Rozgar laaye gi". Chairman Bilawal said that the first job of our government will be to find employment for the youth and benefit the growers. Once when the growers were very worried when there was no price for their potato crop, Shaheed Mohtarma Benazir Bhutto had directed her government to buy the crops from the growers so that they would not have to bear the loss. The growers were getting benefits during President Zardari's rule, he provided employment to women and introduced a revolutionary program, BISP. This government has now changed its name to "Ehsaas" but it cannot lessen the love that people have for Quaid-e-Awam and Shaheed Mohtarma Benazir.
President Zardari had chased out General Musharraf and your help, we will also chase out this incapable puppet who is a failure, Imran Khan. We will establish an Awami Raj to solve your problems. This puppet has caused a historic price hike, unemployment and poverty. The PPP always stands with the people during difficult economic situations, it increases salaries and pensions. The salaries of soldiers were not increased by General Zia, General Musharraf, Nawaz Sharif or Imran Khan. They were only increased during PPP's government by Asif Zardari.
Chairman PPP said that there is one message for the jiyalas, that is, "Wake up and save the country'. I not only need a jiyala prime minister of Pakistan but also a jiyala chief minister of Punjab. We want the support of everyone who has ever raised the slogan of 'Jeay Bhutto'. We will work hard and will be successful. No power in the world can stop us.
Earlier in the day representatives of the Christian community meet PPP Chairman Bilawal Bhutto Zardari at People's Secretariat Multan on Monday. Naveed Amir Jiva, General Secretary Pakistan Peoples Party Minority wing, was present in Waseb.
The representatives of the Christian community included Bishop Leo Paul, Ayub Sajid, Sohrab Younis, Farid Yaqub Farooq and Javed Gardas, Father Rafael, Pastor Fahim Shehzad, Salamat Bhatti, Raheel Anjum, Samuel Sardar, Zeeshan, Mubashir Nawab, Shehzad George, Emmanuel Taslim, Oriel George, Zaeem Sajid and Nazir Masih.
Chairman Bilawal Bhutto Zardari and the Christian community discussed the problems of minorities in the country and their solutions. Representatives of the Christian community expressed gratitude to Chairman Bilawal Bhutto Zardari for raising his voice for minority issues. During the PPP regime, the quota for minorities was implemented in the country and after that minorities are neglected, Chairman Bilawal Bhutto Zardari said.
Chairman Bilawal Bhutto Zardari said that PPP got elected a Christian MP from Sindh as Member Provincial Assembly and another as Senator. He appealed to the Christian community across the country to support the PPP in its struggle for the progress of the country.
Chairman Bilawal Bhutto Zardari also met NA-155 ticket holder, Engineer Atif Aslam. In the presence of Chairman Bilawal Bhutto Zardari, Engineer Atif Aslam formally joined the Pakistan Peoples Party. Chairman Bilawal Bhutto Zardari dressed Engineer Atif Aslam in a traditional PPP scarf.
Chairman PPP condoled with Tehsil President PPP Jalalpur Pirwala, Hamid Ali Bhatti on his wife's passing away and offered fateha for the departed soul and prayed for grant of patience to the bereaved family members.
Chairman Bilawal Bhutto Zardari was given a warm welcome at Methla Chowk on Melsi Road. His cavalcade was showered with rose petals by the workers of the party who raised slogans for the party. Every Jiyala wanted to catch a glimpse of their leader at Chowk Methla. A similar reception was given to Chairman Bilawal Bhutto Zardari at Ada Hari Chand, Dhamki bridge, Dharhata, Mailsi city and other places.