PPP will return to power: Bilawal Bhutto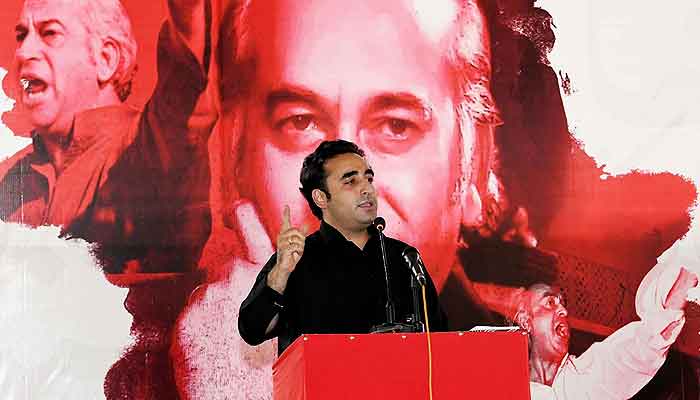 Lodhran: Chairman Pakistan People's Party (PPP) Bilawal Bhutto Zardari addressing a workers' convention of his party has said that if we work hard like this no power can stop us from forming next PPP government in Pakistan and Punjab.
Chairman PPP said that we will together provide relief to the poor people of Pakistan. If any party as provided for small growers, labourers, youth and women then it is only Pakistan Peoples Party. The economic policy of both the PTI and PML-N governments is to benefit rich people and they think that Pakistan will develop this way.
The PPP manifesto from the times of Shaheed Zulfikar Ali Bhutto and Shaheed Mohtarma Benazir Bhutto is an economic policy which benefits the poor and it is proved that Pakistan develops and prospers through this. Quaid-e-Awam despite the dismemberment of the country had helped the growers and made them owners of their land and Pakistan started progressing. During Mohtarma Benazir Bhutto's time, the people's slogan was 'Benazir aaye gi, Rozgar laye gi'. President Zardari during his tenure was standing with the poor and introduced BISP. These two parties used to criticize us, but now it has also been proved that by making women independent and empowered, the economy grows. President Zardari stood by the salaried class instead of the rich and increased their salaries by 120 percent and pensions by a 100 percent. If you want to side with the people, you have to support the PPP to fulfil the mission and dream of Shaheed Zulfikar Ali Bhutto and Shaheed Mohtarma Benazir Bhutto.
The foundation of PTI was laid in Lodhran and the money of Lodhran had formed the government of the PTI. Now, the PTI will be buried in Lodhran. The people are suffering for the last three years. Quaid-e-Awan and Shaheed Mohtarma Benazir Bhutto accepted martyrdom for the people.
Chairman PPP said that whoever has raised the slogan of 'Jeay Bhutto' once is their lifetime is needed by the party. I need your support to save Punjab and Pakistan. If we continue to work hard like this, we will chase out the puppet and establish Awami Raj, there will be a jiyala prime minister and jiyala chief minister of Punjab.
Earlier in the day, Imran Mumtaz Bhabha from Melsi announced to join PPP after meeting PPP Chairman Bilawal Bhutto Zardari at the PPP Secretariat, Multan.
Electronic Media Bureau Chief and Senior Journalists met PPP Chairman Bilawal Bhutto Zardari in Multan. Journalists appreciated Chairman Bilawal Bhutto Zardari's stance on Media Development Authority Bill. Chairman Bilawal Bhutto Zardari assures journalists that the PPP will continue to support the struggle for freedom of expression. Malik Shahadat Hussain, Amir Iqbal Bhatta, Mumtaz Niazi, Yasir Sheikh, Wajihul Hassan, Javed Anbar, Noman Khan Babar, Muhammad Sharif Joya, Taseer Sobhani, Junaid Malik, Rao Asif, Amjad Malik, Amjad Bukhari, Akhtar Sheikh, Mukarram Khan, Shehzad Farid, Mohammad Imran, Reporters Thaqleen Naqvi, Tariq Saho, Mohammad Shahid, Ejaz Tareen and Rabia Khan were also among those who called on Chairman Bilawal Bhutto Zardari.
On his way to the sports ground of tehsil Kahror Pacca for workers' convention, Chairman Bilawal Bhutto Zardari received roaring reception at Dunyapur Bypss Chowk, 18 Pul stop, Haseena Chowk and 16 Pul stop and addressed briefly with the workers gathered at these places. The workers showered rose petal on the cavalcade of their leader and raised party slogans.