Nation is standing with the ECP: Bilawal Bhutto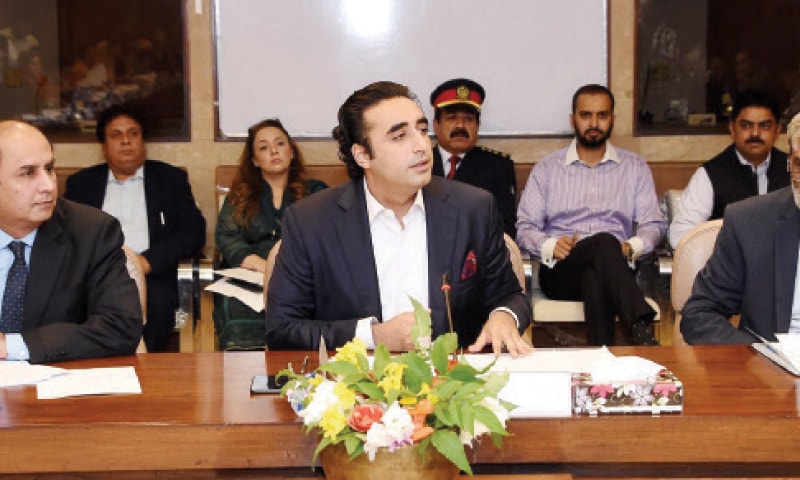 Muzaffargargh: Chairman Pakistan People's Party (PPP) Bilawal Bhutto Zardari has said that now 20,000 employees have been sacked again.
The firing of these 20,000 employees is a robbery on Parliament. Parliament is supreme and we will challenge these sacking in the National Assembly and Senate and also in court. People were employed by Mohtarma Benazir Bhutto Shaheed. Nawaz Sharif sacked them. Syed Yousuf Raza Gilani reinstated these employees through the parliament. Now they are unemployed again.
Chairman Bilawal was addressing a huge workers' convention in Layyah on Saturday. He demanded of the Election Commission to use its powers which the PPP has given to strengthen the Election Commission. Disqualify everyone who attacked Election Commission.
Chairman PPP said the people of Layyah have won my heart for holding such a mammoth reception. He said that you supported Quaid-e-Awam Shaheed Zulfikar Ali Bhutto and Shaheed Benazir Bhutto and Mard-e-Hur Asif Ali Zardari. We have the manifesto given by Shaheed Zulfikar Ali Bhutto and Shaheed Mohtarma Benazir Bhutto, which is the Manifesto of the poor people of Pakistan. Inshallah, we will implement it together. I am grateful to Sardar Bahadur Khan for inviting me to Layyah, holding a meeting for us and announcing that he is again becoming a part of Pakistan Peoples Party. "Together we will serve the people of Layyah in the future," he said.
Chairman Bilawal said that comrades, we have been visiting Waseb for a few days now. We started from Multan, reached DG Khan, after DG Khan we reached Vehari, after Vehari we reached Lodhran, two days in Rahim Yar Khan. And after Rahim Yar Khan, we have come to Layyah. This short visit of ours is bothering Bani Gala and the resident of Bani Gala is shivering.
Bilawal Bhutto Zardari said that some of our friends are also not happy about what PPP is doing. Our friends in opposition have left the field and given free hand to Imran in Punjab. Historical oppression is taking place with the people of this province, with the people of this region, with the people of this land. You are fighting historical inflation; you are fighting historical poverty and unemployment. "Every day a new economic bomb explodes. Sometimes they raise the price of oil, the price of electricity, the price of gas and fertilizers" he said. The people of Wasib are worried. The people are longing for Awami government. The people have had a very difficult time, first endured the reign of Takht Raiwind, today they are suffering due to the selected reign. The Quaid-e-Awam had given rights to the poor.
The PPP chairman said that the PPP was kept out of Punjab under a conspiracy. The elders here remember that the Quaid-e-Awam made the farmers, the owners of the lands here. The elders here remember that when the leader of the people was in power, he made the workers the owners of the mills. Their slogan was Benazir AAye gi, rozgar laey gi. They remember that Shaheed Bibi gave jobs to men and also gave jobs to women. Shaheed Bibi always took care of the poor like her children. The people remember that when President Zardari was in government, he introduced the revolutionary Benazir Income Support Program and the poor women of this country started getting financial assistance. The farmer here remembers that when there was a government of President Zardari, the farmer was prosperous, when there was a PPP government, we did not buy the goods of foreign farmers, we used to buy crops from the farmers here and export them to other countries and now Khan Sahib is importing sugar, rice and wheat.
During the PPP government, salaries were increased by 120% and pensions by 100%. There was no increase in PML-N and the current governments. The injustice that is happening to us, the oppression that is happening to us, we can no longer tolerate hence we have come to you. With your help we will send this Imran home, we have to get government out. Pakistan's problems have to be solved. You know that not only Khan Sahib has taken U-turn from his promises of jobs and houses. Instead he has snatched jobs and houses. The 10,000 workers of Steel Mills were made unemployed by this government. The 20,000 families who were given jobs by Shaheed Bibi in the 90's were made unemployed once again. What kind of new Pakistan is this? We condemn it. We will not allow this conspiracy to succeed. This is the job given by Shaheed Bibi. Together with our families, we will launch a nationwide movement and restore these jobs. The PPP government is coming. We will restore them and give jobs to more youth. Today, there is only the Pakistan Peoples Party which is standing against this callous government. We are challenging the puppet.
Chairman PPP said that it is the demand of the people Pakistan that Go Imran Go. By electing Gillani in the Senate, we have proved that Khan does not have a majority. Khan has no right to rule this country. We demand from our friends to stand up and become lions, get out and fight. We have shown you the way to respect your vote and use your vote, bring no-confidence against Buzdar and Imran.
The people of Punjab cannot be left destitute like this. There is no reason for Imran Khan to remain Prime Minister even for one day. If PML-N wants and Maulana wants, tomorrow we can bring this government down, we can get the rulers out and we can get the people out of this mess. My message to the Jiyalas is to get ready, intensify the struggle as we will reach every village and city to chase Khan out.
You remember that the Quaid-e-Awam had given the slogan that every human being is asking for bread, cloth and house but Imran is snatching them. Bilawal Bhutto Zardari said that I want to fulfil the promises made by my elders to you. I promised you the Waseb province. I will work with you to lift the people of Pakistan out of poverty. If you supported Quaid-e-Awam, if you supported Bibi Shaheed, then we will together change the history of the country.
Today I have come to you again. With your support, we will also make a Jiyala Prime Minister and a Jiyala Chief Minister in Punjab. Khan Sahib once again wants to rob your votes; he wants to attack the Election Commission. The Election Commission is now the target of the government. I want to tell the Election Commission that the people of Pakistan are with you. They are with ECP and will stand behind ECP.
Earlier when Chairman Bilawal Bhutto Zardari reached near Ada Pathan Hotel on Head Muhammadwala Road from Multan, he was greeted by thousands of people and the atmosphere resounded with slogans of Prime Minister Bilawal. When Chairman Bilawal Bhutto Zardari came out of the car to welcome the people, he was dressed in traditional turban and he was showered with rose petals. A large number of women were also present to welcome Bilawal Bhutto Zardari. Chairman Bilawal Bhutto Zardari was also given an unprecedented welcome on his arrival at Chowk Sarwar Shaheed near Kot Addu in Muzaffargarh. People were standing waiting for a gimps of their leader on both sides of the road for several kilometers. Seeing the sentiments of the people, the PPP chairman got out of the car and thanked those who welcomed him.
On arrival at Layyah, a large number of people at Chowk Azam also gave a warm welcome to the Chairman PPP. In a short speech at Chowk Azam, Chairman Bilawal Bhutto Zardari thanked the people and the atmosphere resounded with the slogans of Bilawal Bilawal. "I am very happy to be in Layyah because I am among my friends and supporters," he said. He said that seeing your enthusiasm, whether it is Takht-e-Raiwind or Takht-e-Bani-Gala, both are terrified that Bhutto is alive in Waseb, in Punjab. Chairman PPP thanked Bahadur Khan Sehhar who joined PPP. Arriving at Fatehpur, Chairman PPP Bilawal Bhutto Zardari was given a historic welcome. The atmosphere resonated with Jeay Bhutto, Jeay Benazir and Prime Minister Bilawal. A large number of women were also present at Fatehpur to welcome Bilawal Bhutto Zardari. Bilawal Bhutto Zardari saw the love and sentiments of the people and got out of the car and addressed them.