Iron Brothers to maintain close coordination on efforts towards stable, prosperous Afghanistan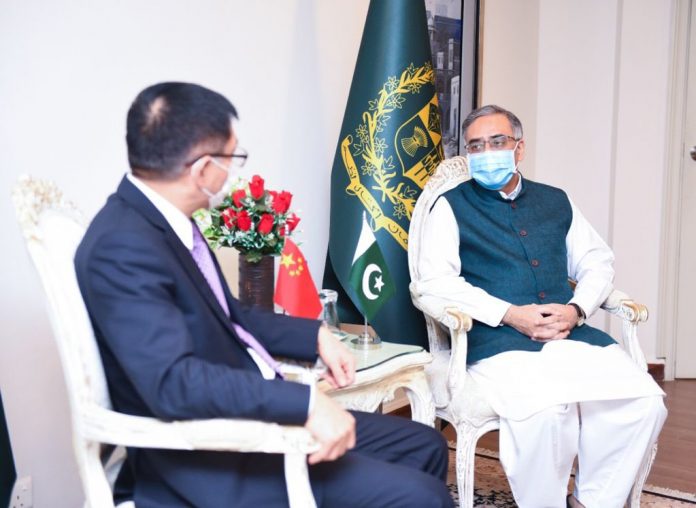 Islamabad: Pakistan and Iron Brother China have agreed to maintain close coordination on efforts towards a stable and prosperous Afghanistan.
Foreign Secretary Sohail Mahmood and China's Special Envoy on Afghanistan Affairs Ambassador Yue Xiaoyong met here to discuss the latest Afghanistan situation.
In a meeting held here at the Ministry of Foreign Affairs, the two sides exchanged views on the situation in Afghanistan, said an official statement.
The Foreign Secretary and Chinese Special Envoy also stressed the importance of 'sustained international engagement' in Afghanistan to avoid a humanitarian crisis.
This week, Pakistan, China and other regional countries expressed readiness to keep ports open for Afghanistan and ensure the smooth cross-border flow of goods to facilitate Afghanistan's access to external support, in particular the transport of humanitarian supplies, as well as to help Afghanistan strengthen economic and trade connectivity with the regional countries.
At the initiative of the Government of Pakistan, the Foreign Ministers of Pakistan, China, Iran, Tajikistan, Turkmenistan and Uzbekistan held the Foreign Ministers' Meeting on the 'Afghan Issue Among the Neighbouring Countries of Afghanistan' via video link on 8 September 2021.
Following the talks, held in an atmosphere of mutual understanding and constructive approach, the Foreign Ministers noted that with the withdrawal of foreign troops from Afghanistan, the people of Afghanistan now have to determine their own future, which should allow in practice to realize "Afghan-led, Afghan-owned" process for national peace and reconciliation.
They recognised that the changes undergone in Afghanistan prove yet again that there is no military solution to this issue, and emphasizing the importance of an inclusive political structure in Afghanistan with participation of all ethnic groups.
They emphasized that the relevant members of the UN Security Council should take responsibility for peace and reconstruction of Afghanistan by supporting Afghanistan in developing its social and economic infrastructure, and providing the people of Afghanistan with vital economic and humanitarian assistance. The international community should not abandon the people of Afghanistan.