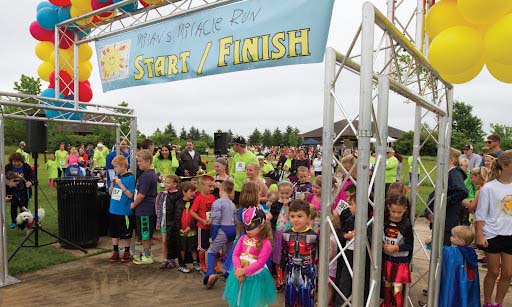 Milan: The first edition of the non-competitive race 'Io Corro Per Loro – Children Without Cancer', to raise funds for kids cancer research, will be held in Milan on Sunday, September 26.
The proceeds will be donated entirely to the European research programme Fight Kids Cancer, which supports projects aimed at producing new treatments – safer, more effective and with less side effects – for children and adolescents.
The event is promoted by FIAGOP, the Italian Federation of Parents and Survivors' Oncological Organisations, whose mission is to guarantee children, adolescents and young adults with childhood cancers access to cures and a good quality of life during treatments and through parents' organisations to support their families.
Organisers of the Milan event say the number of malignant neoplasms (leukemia, lymphoma and tumors) in the 0-19 age group each year in Italy is about 2,200 cases: 1,400 children (0-14) and 800 young people (15-19).
Due to progress made by academic and clinical research in recent decades, about 80 per cent of them will recover. However around 20 per cent – roughly 440 children and teenagers – will not survive the cancer.
"It is as if ten buses full of children and young people fell off a bridge" – underlines FIAGOP president Angelo Ricci – "news that would make a lot of noise, but these are silent deaths, they only make noise in their families."
Research is therefore the only possible hope for healing all children and young people who fall ill. But the numbers are too low for the pharmaceutical market to invest, with research on new drugs focusing mainly on adult cancers.
Very few pediatric cancer drugs have been authorised in recent years, with more than half of the medicines administered to children previously studied for adults, and doses given to children based on their weight and height.
"But children are not miniature adults!" – say organisers of the fundraiser – "We must speed up the research, and we must run!"
The solidarity event is scheduled from 09.00 to 14.00 at Parco Idroscalo in Milan where a race village will be set up. The race is not competitive and is open to everyone: runners, amateurs, families.