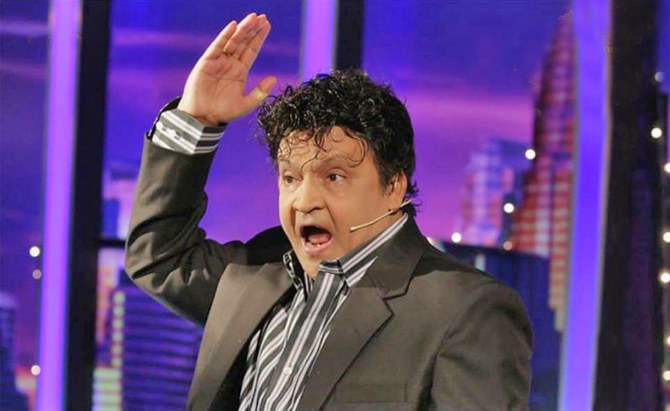 Islamabad: Omer Sharif, who was hospitalised in Germany after contracting mild pneumonia, has passed away. He was one of Pakistan's best known comedians.
The legendary commedian was hospitalised in Germany en route to the US where he was scheduled to be treated for cardiac complications.
His wife Zareen Ghazal who accompanied him on the air ambulance has confirmed the demise.
Omer was born in Karachi's Liaquatabad on April 19, 1955. He began performing on the stage at the age of 14. The audio cassettes of his dramas were released in 1980.
The first part of his series was an instant hit. A total of five cassettes were released, all of which were sold out. Later, his plays were also recorded and released.
Initially, her performed under the stage name of Omer Zareef, which was later changed to Omer Sharif. Zareef means witty.
Omer Sharif also forayed into the world of films. In 1986, he starred in Hisab and Khandan. In 1992, he directed Mr 420, which featured him in the lead. He became the first artist to bag four Nigar Awards in a year.
Omer went on to star in Mr Charlie, Miss Fitna, Chalti ka Naam Gari, Khotay Sikkay, Chand Babu, and others.
Two of his most popular stage plays Kakra Qiston Pe and Budha Ghar Par Hai were first performed in 1989.
Omer interviewed several big names from both entertainment and politics on The Shareef Show, which aired in 2009.
Omer Sharif was one of Pakistan's most successful comedians and his performances were equally popular across the border. He has been cited as an inspiration by many celebrities, including Indian comedian Kapil Sharma.
He made several appearances on SAMAA TV's various shows. He was also running a charity and had set up a hospital in the memory of his mother.
Omer's flight to Washington was delayed after he developed a fever on the German air ambulance. He was admitted to a hospital in Nuremberg, where he was diagnosed with pneumonia.
Omer was being treated with antibiotics, according to cardiologist Dr Tariq Shahab, Reema's husband. It had yet to be decided when he would be flown to the United States. Travel from Germany to Washington was supposed to take eight to nine hours and the flight could only take place if Omer was deemed fit to travel.
A medical team in Washington was in coordination with the one in Germany.
Dr Tariq, who is Lollywood actor Reema Khan's husband, is among eight specialists who was supposed to operate on Omer. Arrangements for his "high-risk" surgery were made at the George Washington University Hospital.
President Arif Alvi, Prime Minister Imran Khan, PPP leader Bilawal Bhutto and other people have expressed condolence on the demise of Omer Sharif.
PM Imran Khan recalled that Omer Sharif had helped him raise funds for Shaukat Khanum Hospital.
Information Minister Fawad Chaudhry said Omer Sharif's name would be inscribed in golden words on the pages of history.
Pakistani cricketers Fakhar Zaman and Muhammad Hafeez grieved the demise of "King of Comedy" and said that Omer Sharif was the man who spread smiles all around the world.