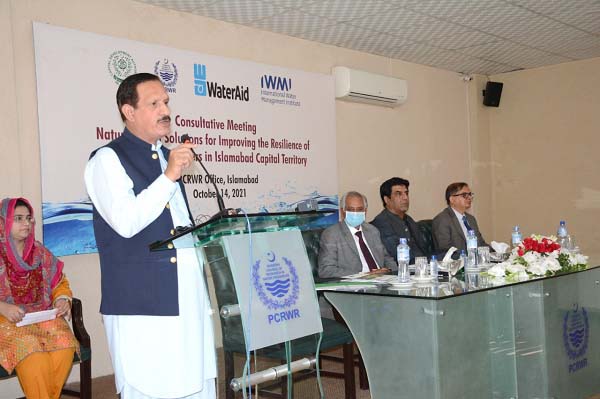 Islamabad: "For any new housing scheme, the Capital Development Authority (CDA) or the Federal Government Employees Housing Authority (FGEHA) must include in the construction plans that rain-water storage tanks to be made mandatory. This water can be used for gardening, for use in toilets (flush), and for carwash etc." Dr. Mohsin Hafeez, Country Representative, International Water Management Institute (IWMI) said while speaking at the consultative meeting on 'demonstration of nature-based solutions for improving the resilience of groundwater aquifers in Islamabad Capital Territory (ICT).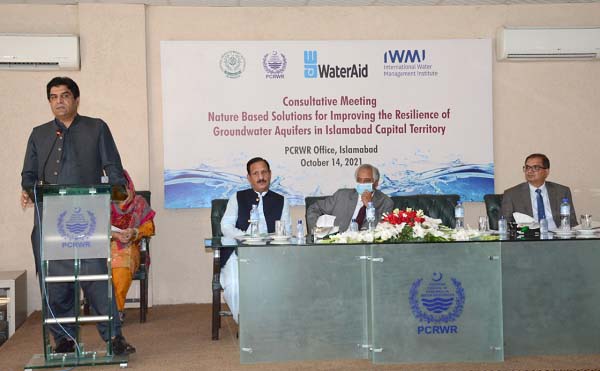 He said Islamabad gets a lot of rain and this rainwater is wasted or becomes the reason for flash or urban flooding, and we have witnessed this during the current monsoon season when posh areas of Islamabad got flooded, caused huge damages to infrastructure and public property including vehicles. This can be avoided if we opt for nature-based solutions.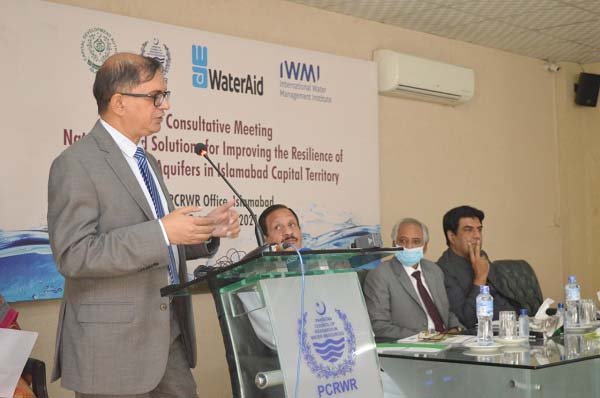 Dr. Mohsin Hafeez added that we are working in Pakistan as well as in Islamabad with relevant stakeholders in providing evidence-based scientific solutions to overcome issues of water. We need to know what the challenges and issues of water in Islamabad are and within one year how we can provide sustainable climate-resilient solutions, those solutions need to be site-specific, and we also need to think about the bigger picture. When we look at the big picture, we also need to look at how much water resources are available which includes surface water as well as groundwater. And then we need to think about how much is the consumption. In Islamabad, like all the other sectors, evidence-based information is missing.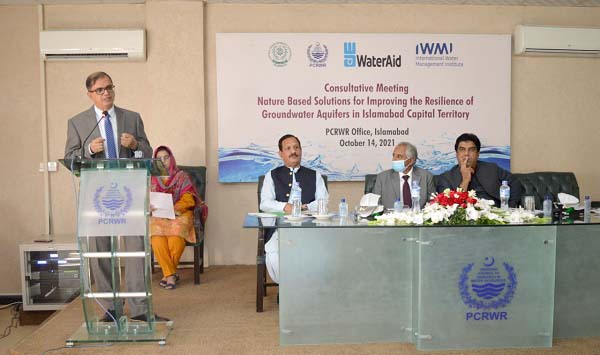 Under the constitution of the Islamic Republic of Pakistan, water is a fundamental right, and the state should be providing clean, safe drinking water to every citizen. I am glad to see that the current leadership is taking good initiatives such as the development of 100 recharge wells, which are led by the CDA.
There is a lot of potential to take advantage of the 1500-millimeter rainfall. In the 1990s more recharge was happening with less extraction from the ground. And if we look now, the rains are turning into flash floods, with less recharge. This is mainly due to increasing infrastructure, increasing population in Islamabad, paved roads. We need localized solutions, instead of engineering solutions focus must be on socio-economic and cost-effective solutions too. If we only utilize 20 percent of the rainfall into recharge, this will not only improve the groundwater aquifer but will also help to deal with climate shocks, clouds burst etc. Dr. Mohsin said.
Speaking on the occasion, Dr. Muhammad Ashraf, Chairman, Pakistan Council of Research in Water Resources (PCRWR), said "together with the International Water Management Institute (IWMI) Pakistan and Capital Development Authority (CDA) we are doing a water resources assessment of the entire Islamabad for surface water as well as groundwater and identifying research sites. Based on this assessment we will put together a draft for developing the groundwater and surface water legal framework. WaterAid has offered us legal support while PCRWR will provide technical assistance. We are working towards nature-based solutions to provide enough water to everyone in the capital city. PCRWR and IWMI have a long history of partnership. Both institutions are jointly working to showcase the potential of groundwater recharge for Islamabad, this will be based on scientific research.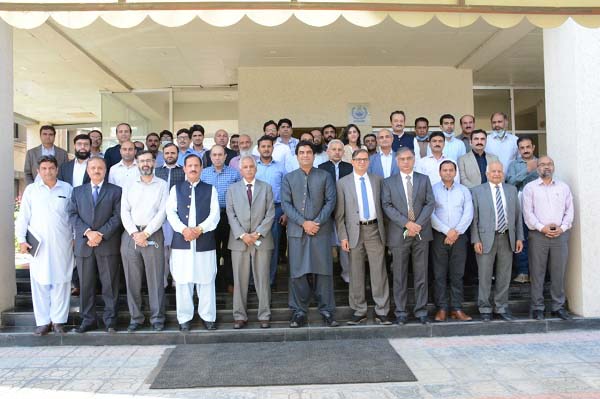 Engr. Syed Munawar Shah, Member Engineering, Capital Development Authority (CDA) said that the current government encouraged us to work on the idea of finding nature-based solutions. We have developed a PC-1 to overcome the shortage of water in Islamabad. As you all know Islamabad relies only on two water sources i.e., surface water and groundwater resources. As Chairman PCRWR also mentioned that groundwater table of the capital is depilated at the rate of one meter every year whereas Islamabad gets almost 1.5-meter rainfall each year. We at CDA are aiming to establish at least 50 wells initially to capitalize on the winter rains and the remaining wells we want to complete by 30 June 2022 so we can catch the next monsoon rains. By doing so we shall be able to aquifer the groundwater recharge. The Member CDA appreciated Country Representative, IWMI's suggestion of making it mandatory for all upcoming CDA and FGEHA sectors as well as private housing schemes, those who get their land plans approved by CDA, to have rain-water tanks and proposed the Advisor to Prime Minister on CDA Affairs that CDA bylaws should be amended accordingly. The Member Engineering, CDA assured the audience that he will bring this point up with the Chairman CDA, and through him, they will present it during the Board of Directors meeting.
Advisor to the Prime Minister on CDA Affairs, Mr. Ali Nawaz Awan who was the chief guest on this occasion, in his inaugural remarks said, "Water is a very technical issue, and I have been advocating for this fundamental right since I was in the opposition. We never imagined that Islamabad would face the non-availability of water, but sectors such as G-10, G-11, I-10, G-13, etc. are facing extreme water shortage crises. After the 1991 Water Accord, Islamabad, the capital city can't get water from Indus until all four provinces allow us. Before the 1991 accord, Islamabad was getting water from Simly Dam, Khanpur Dam, and about 100 to 200 tube wells. While the population in the suburbs of Islamabad is mainly dependent on boring-based water extraction. After we came into power, we have started various initiatives and projects to overcome the issue of water. Mega projects have been started in collaboration with FWO to bring 100 mgd water from Ghazi Brotha for Islamabad. While this is a long-term initiative and will take time, we have worked on efficient water management as a short-term measure. A lot of progress has been made in this direction. But this is not enough, we must plan. According to the 1998 Census, Islamabad's population was about 0.8 million and now in the current census, which was conducted after almost 19 years, Islamabad's population stands at about 2.3 million. Within 20 years, the population in Islamabad has been tripled, there are multiple reasons for migration into the capital which is understandable. We have better infrastructure and facilities are here, a good schooling system, availability of healthcare, employment opportunity, and good living standards. Though the population increased manifold, the facilities didn't and that has put a lot of burden on the existing infrastructures and facilities.
We must look ahead and look 20 years ahead. We need to make the future of our generation water secure. God has gifted us this water in the shape of rains and every year we are wasting it into Nallah Lai. I would direct the CDA to make it a priority and complete the soil water recharge wells at the earliest. The more we built these wells, the more we will be able to secure the rainwater. In the past water was not on the priority list however, looking at the depilated resources, we need to work hard, and we are working hard on this issue. God-willing, within two years, if we set our goals in the right direction within two years, we shall be able to make a lot of improvements in the system.