Pakistan unveils Rs9.5tr annual budget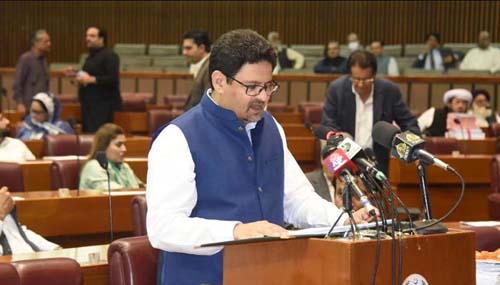 Islamabad: Finance Minister Miftah Ismail on Friday unveiled annual budget worth Rs 9.5 trillion for financial year 2022-23 in the National Assembly.
In absence of the opposition members of the Pakistan Tehreek e Insaf (PTI), the budget speech began without much commotion in comparison with the last few budget presentations.
Starting his speech, Miftah Ismail said the PTI government's policies inflicted losses on the economy and hurt people's lives.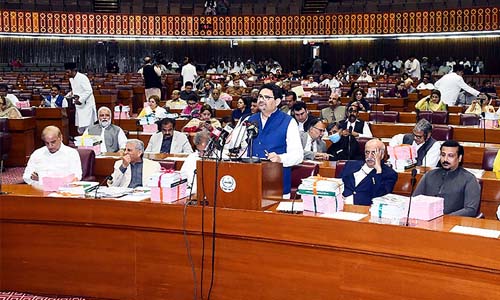 He said the previous government's amateur team brought the country to the brink of default. He said their policies damaged investment sentiment. So, the government had to adopt unpopular decisions to fix the economy, he maintained. The former government did not build even a single economic zone, he said. Imran Khan only wasted four years of people, he added.
During his speech, the finance minister announced the following budget:
The government has raised the tax bracket for small businessmen from Rs0.4 million to Rs0.6 million. Taxable income limit on salaried class has been increased from Rs0.6 million to Rs 1.2 million. A raise of 15 per cent has been given to the government servants, along with merger of the adhoc allowances. Rs525 billion will be spent on pensions a year.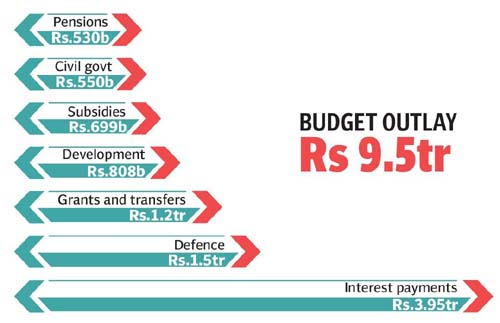 The import and distribution of solar panels has been exempted from tax. 30 necessary pharmaceutical ingredients will be exempted from custom duty.
Those sending remittances abroad through banks or other means of transfer of money would have to pay withholding tax in advance.
Rs1,450 billion allocated for the defence sector.
Rs3,950 billion will be paid on debts, about 45 per cent of the total budget.
Rs51 billion have been proposed for education projects and Rs24 billion for the health sector.
Rs40 allocated for different social welfare projects. Rs 9 billion will be specified for Benazir Graduate Scholarship Programme.
Rs71 billion will be allotted for the payments to be made in the petroleum sector.
Film Finance Fund has been established with Rs1 billion fund.
Income of producers and cinema will be exempted from tax. Medical insurance policy is being started for artists.
The revenue target this year will be Rs6,000 billion. Rs7004 billion is the estimation for next year's collection of the Federal Board of Revenue (FBR), which includes Rs4,100 billion share of provinces.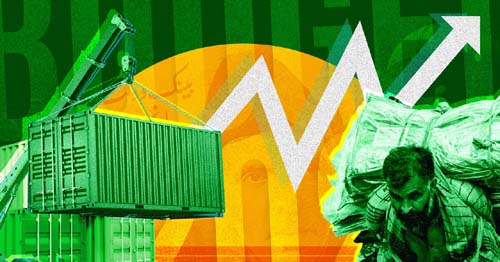 The net revenue with the Federal Government will be 4904 billion rupees. The non-tax revenue will be 2000 billion rupees.
Expenses of annual Public Sector Development Programmes will be Rs550.
Rs1515 will be spent on subsidies. Rs12 billion specified for subsidy for utility stores. Rs570 allotted for subsidy for trade and industries.
Benazir Educational Scholarship's scope will be expanded to 10 million children. Rs44 billion portioned for HEC development projects. Separate scholarships are included for coastal areas of Balochistan.
Money has been allocated in the budget for construction of 250 small sports stadiums.
Rs11 billion has been allocated for the agricultural sector.
The federal government would have more than Rs4,000 billion next year.
Rs1242 billion will be spent on grants, which include the grants of Benazir Income Support Programme, Bait-ul-Mal and other departments. Rs15 per cent tax will be charged for the first year on purchase of immovable assets.
The finance minister said the government would soon announce the new gas tariffs which would be aimed at providing gas to the industries at competitive rates which would help in bolster exports.
0.1 million students will be provided laptops on easy installments across the country.
A restriction has been imposed on buying furniture for public offices. The target of exports has been set at Rs35 billion for next year. Tax rate for non-filers will be 200 per cent on buying vehicles.
Rs2170 billion interest will be paid on internal debts.
Budget deficit this year has been projected to be Rs5001 billion.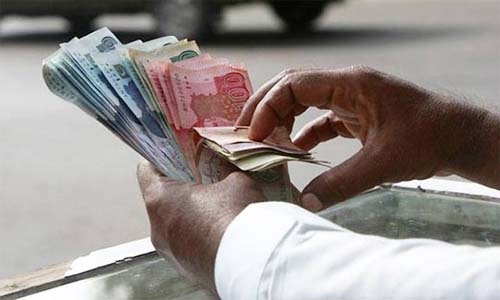 BUDGET RELIEF:
The Finance Minister said the budget of BISP has been increased to 364 billion rupees for the next fiscal year. In addition, 12 billion rupees have been allocated for provision of subsidy on essential commodities through Utility Stores Corporation. An additional amount of five billion rupees has been set aside for Ramadan Package.
The Finance Minister said the facility of Benazir Kafalat Cash Transfer Programme will be available to nine million deserving families under BISP in the next fiscal year. For this, 266 billion rupees have been reserved.
Miftah Ismail said that the scope of Benazir Education Stipend Programme will be expanded to ten million children. Over 35 billion rupees have been proposed for this programme. Ten thousand more students will be given Benazir Undergraduate Scholarship at a cost of nine billion rupees. The network of Benazir Nashonuma Programme will be expanded to all the districts, which will cost about 21.5 billion rupees. Besides, six billion rupees have been set aside for Pakistan Bait-ul-Mal for the medical treatment and assistance of deserving families.
He said tax on profit of Saving Certificates, Pensioners Benefit Accounts and martyrs family welfare accounts has been slashed from 10 to 5 per cent.