CPEC power projects will eliminate power shortage in Pakistan: Shehbaz Sharif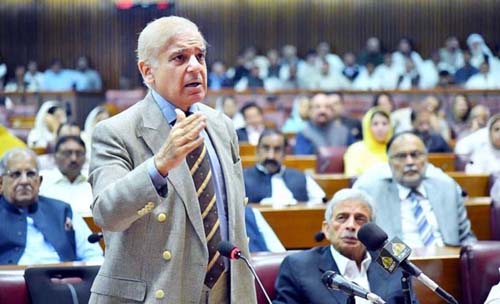 Gwadar Pro
Lahore: Prime Minister Shehbaz Sharif has said that the China-Pakistan Economic Corridor (CPEC) power projects will eliminate the power shortage issue in the country.
The PM chaired an important meeting here to overcome the issues of power load-shedding and energy crises.
PM Sharif directed the authorities concerned to take immediate steps for making the shut-down power plants functional and sought a report entailing clear reasons over the load-shedding.
The PM mentioned that the recent opening of the Karot Hydropower project under the CPEC will help reduce the load-shedding.
The meeting was attended by Minister for Planning Ahsan Iqbal, Minister of State for Petroleum Mussadiq Malik whereas, Minister for Energy Engineer Khurram Dastagir, Minister for Information and Broadcasting Marriyum Aurangzeb, Shahid Khaqan Abbasi, and PM's Special Assistant on Public Policy/Strategic Communications Fahad Hussain participated the meeting via video-link. The relevant authorities also participated in the meeting.
During the meeting, the steps to resolve the ongoing power crises in the country were discussed. The PM also directed for resolution of the issues of provinces regarding provision of drinking water and agriculture facilities on priority basis.
The Indus River System Authority (IRSA) was told to take an independent decision after mutual consultation of the provinces.
The PM maintained that all CPEC projects will take time in completion and until then the available resources must be used to counter the energy crisis.
The electricity shortfall in Pakistan has reached 7,787 megawatts as production is stagnated at 21,213 Megawatts (MW) and demand reached 29,000 MW.
According to the power division of the country, the electricity shortfall has reached near 8,000 MW. The demand for electricity in the country has exceeded 29,000 while the production lags at 21,000 MW.
The power division says that currently, a total of 5,430 MW of power is being produced by hydropower while 705 MW are being produced via Thar mill plants. The production via the private sector is 10,241 MW while Wind and solar plants throughout the country are producing 1,742 MW of electricity.
Biogas plants are producing a total of 120 MW, while 2,275 MW are being produced using nuclear power, the power division suggests.
The load shedding duration in the country has gone up to 14 hours. Areas with greater line losses are suffering from higher durations of load shedding.
On Sunday, Federal Minister for Power Khurram Dastgir Khan announced that load-shedding will not be ended on the occasion of Eidul Azha, however, the duration of power outages will be reduced.
During a news conference in Gujranwala, Khurram Dastgir Khan said that 720 megawatts power plant had been made operational from June 29. "The issue of power outages will be addressed next summer after the operationalisation of the new mega project," he added.
He underlined that CPEC power projects will play as key role to end the load-shedding in Pakistan.