Zardari pays tribute to martyrs of democracy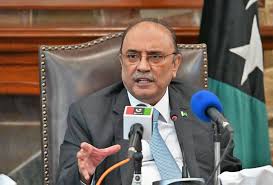 Islamabad: Former President of Pakistan and President Pakistan People's Party Parliamentarians Asif Ali Zardari on the occasion of Black Day on 5 July has paid tributes to all the political activists, students, laborers and journalists including Mother of Democracy, Begum Nusrat Bhutto, Martyr of Democracy Mohtarma Benazir Bhutto.
This is the day to pay homage to those who accepted hardships for the restoration of the 1973 constitution and democracy, who were flogged and endured oppression and violence.
In his message, Asif Ali Zardari said that the leadership of Pakistan People's Party has always taken the country out of difficulties. Whenever the constitution and democracy have been attacked, the leadership and workers of the Pakistan People's Party have fully defended the constitution and democracy. The former president said that the PPP leadership has endured hardships for the country. He said that the country and the people are once again moving in the right direction and out of difficulties.
Zardari said that all the democratic forces of the country must come together and work for the betterment of the lives of the people by taking decisions by consensus.
Asif Ali Zardari said that it was very encouraging that the entire nation believed in the 1973 constitution. This is the fruit of the great struggle of the PPP leadership and workers. Asif Ali Zardari said that today, we are renewing the pledge to make the country a welfare state by strengthening democracy in accordance with the philosophy of Shaheed Mohtarma Benazir Bhutto.