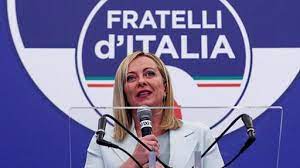 Rome: Fresh from her victory in Italy's elections, Giorgia Meloni is deciding who will get top jobs in the right-wing government she is expected to lead.
Ms Meloni, head of the far-right party Brothers of Italy, has kept out of view since her election win, when she promised to govern for all Italians.
The question is who will fill the key jobs and whether they will go to other parties in her right-wing alliance. Matteo Salvini, for example, was known to covet the interior ministry.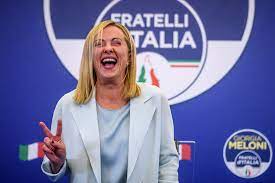 The head of the far-right League had the job in 2019, when he barred rescue boats carrying migrants from entering Italian ports.
Ms Meloni has likewise promised a tough response to irregular migration – but reports in Rome suggest Mr Salvini will miss out on reprising his role.
Support for Mr Salvini's League slumped to 8.8% on Sunday, so he is not in a position to demand top jobs. One former League leader, Roberto Maroni, has even suggested it is time for Mr Salvini to stand down.
Giorgia Meloni, meanwhile, has risen to new heights: she is set to become the country's first female prime minister late next month, at the head of its most right-wing government since World War Two.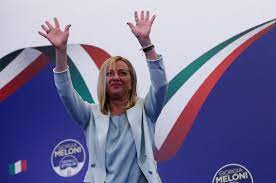 Since her victory speech in the early hours of Monday, she has left the talking to her top lieutenants. She picked her daughter up from school and worked off some stress in the gym.
Several European countries have expressed alarm at her victory. Dutch Prime Minister Mark Rutte said Italy was a cause for concern because parties in her coalition had "said and done things that should make us vigilant", citing the economy as well as relations with Russia.
French Finance Minister Bruno Le Maire said he hoped a Meloni government would continue pursuing the economic reforms initiated by outgoing Prime Minister Mario Draghi – but that he had no concerns for the stability of the eurozone. A Meloni government would be judged by its actions, he said.
One of her first actions since winning the elections with 26% of the vote was to speak by phone to her predecessor Mr Draghi, according to unconfirmed reports in Italian media.
Guido Crosetto, who co-founded Brothers of Italy with Giorgia Meloni in 2012, insisted that the right-wing alliance would respect all of Italy's commitments, and that its public finances were in safe hands.
Even before Italy gets a new government, it has to submit a draft budget to the European Commission in mid-October and Mr Crosetto said he hoped the Draghi government would work together with the new administration on it.
He also warned that nobody would get a job in the new cabinet by planting party flags on seats. "The Meloni government will be built by choosing Italy's best resources," he told Il Messaggero newspaper.
President Sergio Mattarella is expected to ask Ms Meloni to form a government late in October, after her party won more than a quarter of the seats in the new parliament.
Together with the League and Silvio Berlusconi's Forza Italia, they control well over half the Chamber and Senate.
Ms Meloni toned down her rhetoric during the election campaign, but has in the past attacked the "LGBT lobby" and mass migration. Her party was born out of a post-war movement rooted in the fascist past of dictator Benito Mussolini.
Italian political scientist Prof Roberto D'Alimonte said that while she came from a post-fascist cultural background, Ms Meloni had recently stated she would make no change to Mario Draghi's policies on supporting Ukraine during the Russian invasion and she had talked about fiscal responsibility.
"She did this because she had to build her credentials to be a legitimate candidate for prime minister," he said.
Centre-right veteran leader Silvio Berlusconi, who is part of the Meloni coalition, told Corriere della Sera: "If I thought there were a risk of a populist turn, the government would not even take off."
However, Ms Meloni has talked about revisiting the EU's enormous package of Covid recovery funding being given to Italy in return for comprehensive reforms.
The European Commission agreed on Tuesday to hand over its second instalment worth €21bn (£18.7bn), and the new government will not want to jeopardise the next €19bn, due by the end of the year.
Although Brothers of Italy has sought to calm reaction to its victory on Sunday, the markets reacted nervously, placing Italian bonds under pressure; the so-called spread between German and Italian yields grew to its widest margin since the government collapsed in July.
One of the leading figures in Mr Berlusconi's Forza Italia party, Antonio Tajani, said on Tuesday it was wise not to discuss who would take part in the Meloni government just yet.
However, he said he would do whatever Ms Meloni and the Italian president decided.