Belarus-China Belarus reaffirms commitment to China's Belt and Road project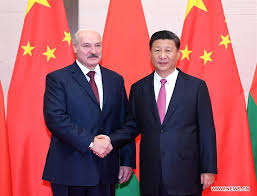 MINSK, Sep 27 :Belarus confirms its commitment to the joint implementation of China's Belt and Road initiative, Deputy Head of Belarus President's Administration Nikolai Snopkov said at a function held on September 26 to mark 69th anniversary of the foundation of the People's Republic of China, BelTA has learned.
Nikolai Snopkov extended greetings to China on the occasion of the holiday.
According to him, the date is an opportunity not only to analyse bilateral relations, but also mobilize for the prompt achievement of the goals set in joint cooperation. The deputy head of the Belarus President's Administration emphasized that the work between the two states on the implementation of the Belt and Road concept is in full swing thanks to the leaders of the two countries, Alexander Lukashenko and Xi Jinping.
In turn, China's Ambassador Extraordinary and Plenipotentiary to Belarus Cui Qiming said in Belarusian that the current achievements of China are the achievements of its people. The policy pursued in the country has profoundly changed China and had a huge impact on the whole world.
According to the diplomat, the Belt and Road concept meets the interests of all the participating countries, including China and Belarus.
The ambassador expressed confidence in bright prospects of Belarus-China all-round cooperation.